We have 'filtered' through Instagram to bring you 5 examples of B2B companies that are successfully employing the platform's marketing potential. The following organizations are using Instagram to share their unique brand experience visually. They not only have large numbers of followers, but they also have high levels of engagement. Engagement rate is a key element here as it confirms that the company's brand experience is is resonating with their audience.
1. MailChimp
MailChimp uses Instagram to tell its story; it posts colorful, fun photos that give a behind-the-scenes look into day-to-day life at the company's offices. By specifically showcasing its employees, MailChimp is indirectly sending a message to prospective customers about the kind of people they would be working with if they chose to do business with MailChimp. While this unique approach doesn't highlight product capabilities, it still effectively communicates MailChimp's value proposition.
2. CBRE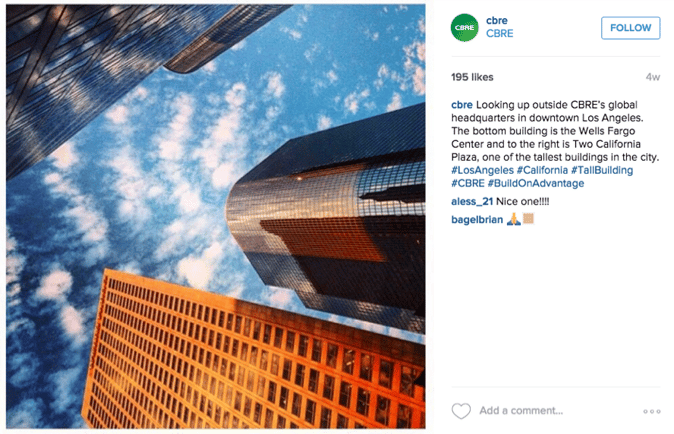 CBRE, a global commercial real estate firm, is an unlikely leader in the B2B Instagram space. While the company's content – property management and leasing agreements - could've resulted in very boring Instagram posts, its feed is full of beautiful portrayals of global architecture. CBRE also includes a fun fact about each building it shares. Additionally, the company alternates between showing buildings it actually owns and those it does not, which results in a more authentic feel to the account overall. While the company's work is promoted, it is done in a subtle manner and the audience doesn't feel as though they're being subjected to in-your-face PR.

3. Intel

____________
_____

Intel does an excellent job of using Instagram's video feature. Some of its videos focus on emotive content while other videos show followers how to perform DIY projects. Thus this company's Instagram account is not only inspirational, but it's also educational! By publishing this helpful content, the company naturally attracts inbound traffic that it can eventually convert. The account also showcases various products in action, thereby creating a video look-book for potential customers to browse.

4. Hootsuite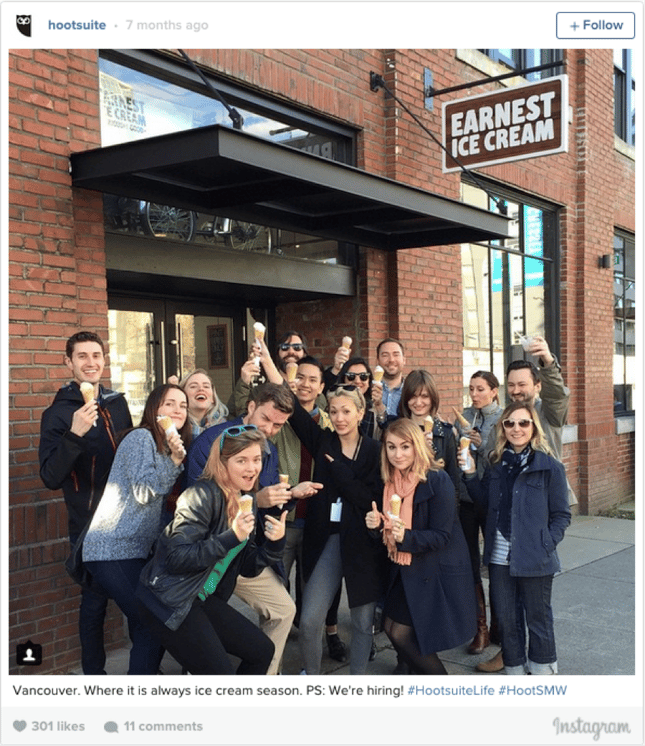 Hootsuite uses Instagram primarily for recruitment efforts; it makes no effort to hide this motive, as there's a direct link to its careers page included in the company bio blurb. Its content is heavily culture-focused, demonstrating the company's core values and its appealing work environment. More specifically, Hootsuite's photos include team outings, charity events, and even pets in the office! The company does a terrific job of making its office life look very attractive, thus driving more traffic to the careers page and application process.
5. General Electric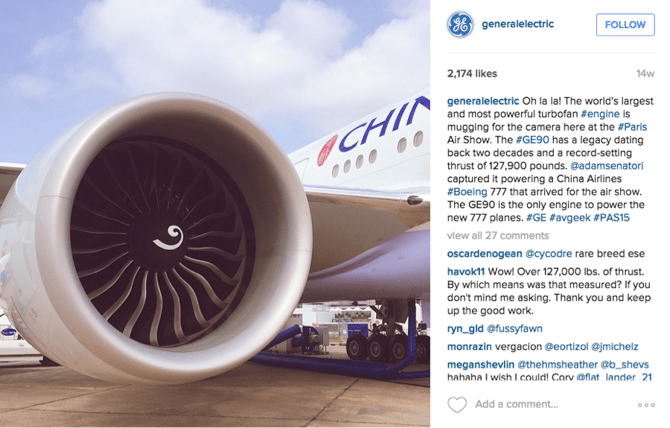 GE has established itself as a thought leader across multiple social media platforms, including Instagram. The company's impressive grasp of inbound marketing, a semi-new practice, is even more inspiring when you consider that it is 123 years old. GE remains competitive among newer, more tech-y companies by posting visually stunning technologies and relating them to socially relevant issues. Its Instagram feed boasts remarkable photos of factories, turbines, and jet engines, proving that it's still as innovative and cutting edge as it was over 100 years ago.
These companies are all enjoying the benefits of Instagram. They have numerous followers and high engagement rates, confirming that they are actually connecting with their intended audience. Do any of their stories resonate for your and your business? Can you think of a few ways to extend your company's brand experience visually? We'd be happy to help.
---