"If you didn't 'gram' it, it didn't happen."
There are several variations on this mantra; all point to a common understanding of the importance of Instagram. However, many businesses are still hesitant about the platform, particularly those in the B2B space. While they have recognized the impact of other social media giants like Facebook and Twitter, these companies continue to dismiss Instagram as not being a good fit for their brand. Yet there is a great opportunity for inbound marketing for B2B companies on Instagram, especially given that not many of their peers are utilizing its full capabilities in this space. Having a strong presence on Instagram can help your company stand out.
How? Here are 5 ways that Instagram can help your B2B company.
1. Storytelling
Today's marketers can no longer depend on self-centered, sales-y advertising. The focus has shifted to connecting with the audience and, as such, storytelling has become a major part of brand strategy; it's a good tool for developing B2B brands' personalities. B2B companies can leverage Instagram as a way to tell their story. This can also be woven into their larger online marketing strategy.
2. History (#ThrowbackThursday)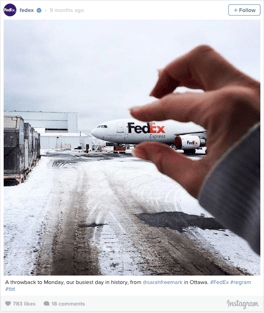 In the same realm of storytelling, B2B companies can use Instagram to demonstrate their history. More specifically, highlighting your company's past allows your audience to learn more about your company's journey, adds context, and drives an emotional connection. Instagram also affords companies the opportunity to celebrate milestone moments such as anniversaries, awards, and anything else significant to the company's past. The hashtag #ThrowbackThursday, or #tbt, provides the perfect opportunity to revisit your company's past and share selected moments with your audience.
3. Thought Leadership
Thought leadership is indirect; it is information, research, ideas, commentary and opinions that exist for their own sake, not to prove a commercial point. This aversion to direct sales can be facilitated by Instagram as it doesn't allow links back to your site. Therefore Instagram is a perfect platform for establishing trust with your audience that you are, in fact, concerned with their pain points and you're not just trying to sell them something. While it's not as easy to offer educational information on Instagram as it is on other platforms, visual mediums are a popular way for people to consume content in general, and Instagram requires that you include a photo in your post.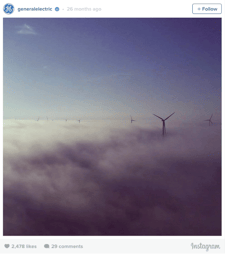 4. Demos and Tutorials
Don't forget Instagram's video feature! The platform allows users to post videos of up to 15 seconds, which is certainly long enough to show how a certain tool or feature can be used. This will not only alert customers to changes, but it will also help them to adapt quickly. A short how-to video can also be used to answer customer FAQs, thereby further adding value for your community. You can also shoot videos of the work you've done for recent clients to create a video look-book for potential customers to browse through.
5. Promote Content from Other Channels
Instagram can be used to promote a new blog post, a landing page for a new ebook, or a new campaign on Facebook or Twitter. This will not only expand the reach of your campaign or content, but it can also convert your Instagram audience into followers of your other marketing channels. Facebook facilitates this multichannel strategy by allowing for integration of Instagram photos and videos on its newsfeed. In fact, videos and photos inspire the most engagement on Facebook. Therefore, this can be a useful tool to boost Facebook interaction.
These are only five of the many ways in which Instagram can be used to enhance your B2B marketing strategy. So go ahead, start integrating Instagram into your inbound strategy. Remember: "If you didn't 'gram' it, it didn't happen."
Can your B2B brand afford not to 'happen'?
---