Many businesses or marketing managers wonder whether they should partner with an online marketing agency or keep their marketing in-house.
By looking at the benefits of digital marketing and what a marketing agency team can bring to the table, this article will help you answer the question of whether you need to hire a social media manager for your business?
What is Digital Marketing?
Digital marketing is marketing that uses online-based platforms and digital technologies to promote products and services. Compared to traditional marketing strategies such as television, print, and billboard advertising, digital marketing is primarily data-driven.
Online software and technologies allow digital marketers to collect and analyze consumer behavior and preferences data. The insights from this data enable marketers to create personalized content targeted at clearly defined audiences. These trackable and measurable tactics improve customer engagement and drive sales.
Why Invest in Digital Marketing?
Digital marketing is one of the best strategies business owners, or managers can utilize to build brand recognition, boost business growth, generate more leads and increase revenue. While it has been around for some time, digital marketing is going through a monumental shift in this age of abundant data.
Today, consumers are self-directed, have high expectations regarding online customer service, and are inundated with information from competitors. More than ever, it is essential for businesses to have a robust digital marketing budget to find new and creative ways to reach potential customers.
However, while digital marketing can provide significant value to businesses looking to improve their social media presence, boost their brand and ultimately increase revenue, many companies lack internal marketing experts suited to navigate today's digital marketing landscape. Additionally, they may not have the budget to hire or train internal employees.
You may be asking yourself whether to invest your resources in-house or look to outside experts to help build your business. Like most business decisions, this one comes with both benefits and downsides.
What Does a Social Media Manager Do?
An in-house social media manager would work with a sales or marketing team to develop, manage, and maintain a conservative digital marketing strategy ​​for small businesses that are relatively content with their growth rate and customer reach.
The responsibilities of the role can vary depending on the size of the business, its goals, and its online presence. In general, duties include planning posts for the various social platforms and engaging with potential customers while maintaining the company's culture and brand. That being said, a social media manager needs to coordinate closely with the marketing team, which brings us to the next point:
If your business is looking to scale up, you may require the services of a marketing agency that can scale quickly with your business.
Let's examine some pros and cons of hiring a social media manager from an external marketing consulting service.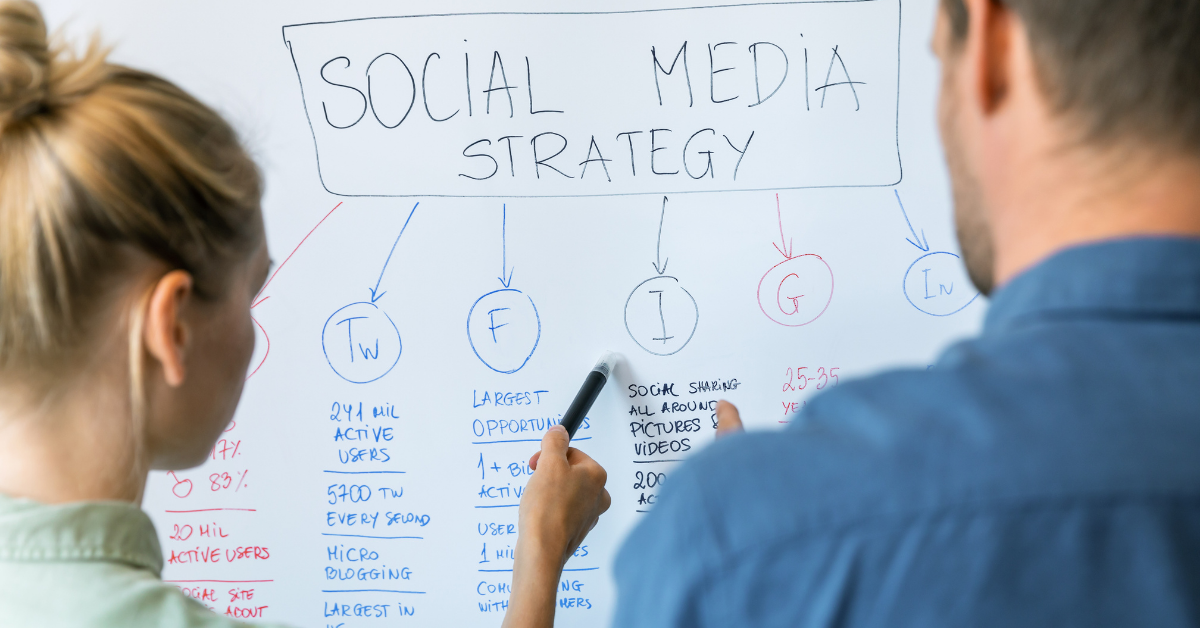 In-House vs. Agency Marketing Management
The expertise and scope of an agency marketing team can improve your presence across social media networks and increase your paid advertising efforts during a busy season. In addition, an outside marketing agency team can provide your business with a custom content marketing plan and ongoing support in its execution.
A workable marketing plan is a tool that enables your business to gain maximum value from your marketing budget. It answers your questions regarding how best to allocate marketing budgets across online and offline channels and spread online investments across today's numerous digital channels.
An agency marketing team can provide the following marketing strategies and more:
Inbound and outbound marketing

Social media marketing

Sales and marketing software

Search engine optimization (SEO)

Content creation

Creative website design

Email marketing
Benefits of Using a Marketing Agency for Digital Marketing
For sustainable growth, your company needs external strategic perspectives that can help:
Identify your best assets to generate sales leads

Clarify and target your company's goals

Build and manage effective, workable, and relevant marketing plans
Qualified Leads
Sales teams need marketing activities that segment leads, so they only receive qualified ones. Determining a quality lead is more complicated than just targeting people who signed up for your newsletter. Your sales team can't be wasting valuable time cold-calling dead-end leads when there are ways to shrink the pool of prospective customers.
Social media managers from a marketing consulting service can create custom automation workflows that help sales teams close more deals and waste less time. They use conversion rate optimization (CRO) to improve the effectiveness of your sales pipeline.
Personalized Campaigns Across a Vast Digital Landscape
The list of marketing tactics and platforms grows longer and more complicated daily. Additionally, today's consumers expect targeted, highly personalized, and ongoing communications from the brands they do business with. Trained marketers familiar with today's digital landscape and on top of its rapid changes, will track and strategically use up-to-date data to shape informed marketing decisions for optimal lead generation.
Multiple Marketing Campaigns Management
Successful businesses understand the need to run marketing campaigns year-round and not just for intermittent promotions and sales. However, running a business and multiple digital marketing campaigns involving many people with varied skills simultaneously is challenging.
External social media managers can handle multiple marketing campaign management, including determining the right timing for campaigns, creating compelling and relevant messaging, and testing and analyzing campaign results. Additionally, many digital advertising platforms provide marketing campaign reports and data analysis for performance review and future marketing planning, which are best managed by teams with resources and expertise.

Other Considerations When Hiring a Marketing Agency
While hiring an external marketing agency comes with many benefits, there are also a few ways it can have some potential downsides.
For example, if you like to retain complete control over your marketing campaign, you will need to compromise when working with a digital marketing agency. While approval processes are always built into content production timelines, certain tactics require immediate attention or quick turnarounds and the agency will require freedom to make these strategic choices.
Digital marketing agencies usually work with more than one business, which could leave you feeling that they're not investing enough resources toward your own. However, when you work with a client-focused agency, they will know how to allocate their resources so it feels like your business is their only concern.
Do You Need to Hire a Social Media Manager?
As mentioned above, social media is an integral part of the overall marketing strategy. If a business does decide to hire a social media manager, that individual should be completely in sync with the rest of the marketing team in terms of current campaigns, advertising efforts, etc. For example, if the content creator of a company writes a blog about a new product, the social media manager should not only push that blog out through social media but also plan other relevant posts under that campaign. Otherwise, the marketing efforts for that new product are not fully being utilized.
To ensure all marketing efforts are on the same page and working together, many companies choose to hire a marketing agency instead of a full-time social media manager. Because salary for a social media manager alone can range anywhere from 30-80k, an agency in comparison could be more cost-effective.
If you're looking for performance-based marketing that drives quantifiable business growth, get in touch with Snyder Group.
Or schedule a free consultation to receive a complimentary assessment of your online marketing performance, a list of activities that could boost your brand, and more. Snyder Group's team of marketing experts has the focus and expertise to help you succeed in the challenging world of digital marketing.