With social media becoming more prominent, especially in the business world, new jobs have emerged solely for the purpose of handling a company's social presence. Since social media is becoming an increasingly important part of overall marketing strategies, many people say it makes sense to have one person fully in charge to handle it – a social media manager.
What exactly does a social media manager do?
Responsibilities of the role can vary depending on the size of the business, its goals, and online presence. In general though, duties include planning posts for the various social platforms and engaging with potential customers while maintaining the company's culture and brand. This being said, it is important for a social media manager to coordinate closely with the marketing team. That brings us to the next point:
Do you really need to hire a social media manager?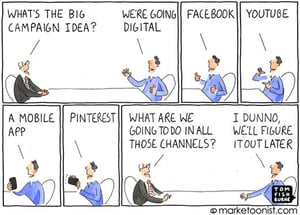 As mentioned above, social media is an integral part of the overall marketing strategy. If a business does decide to hire a social media manager, they should be completely in sync with the rest of the marketing team in terms of current campaigns, advertising efforts, etc. For example, if the content creator of a company writes a blog about a new product, the social media manager should not only push that blog out through social media, but also plan other relevant posts in accordance with that campaign. Otherwise, the marketing efforts for that new product are not fully being utilized.
In order to ensure all marketing efforts are on the same page and working together, many companies choose to hire a marketing agency instead of a full time social media manager. Because salary for a social media manager alone can range anywhere from 30-80k, this is very cost effective.
A marketing agency helps with developing carefully crafted content and digital strategies, and social media is a part of that. Essentially, the agency can handle all the moving parts of the marketing machine, including social media, while a social media manager is solely handling one part, which may not be in line with the rest of the company's marketing efforts.
---