One of the administrative goals of a college or university is to consistently increase its academic profile. However, in practice, this threatens to be a bit of a double-edged sword. When standards for admissions and average GPA's or test scores are raised, the door closes on many students that might have previously been qualified for admittance. Higher education institutions often find that their academic profile and their enrollment/admittance share is an inverse relationship. If you serve any role in a university or college setting, you know that decreases in enrollment are also directly related to decreases in budget, which is never a good thing.
So, herein lies the question: How can universities increase their academic profile to attract top talent and continue trending upwards without sabotaging their enrollment rates? Lucky you, we've got some higher education marketing strategies to put against that. Let's start with answering some basic questions:
What is Inbound Marketing?
To put it simply, inbound marketing is the practice of attracting customers through content that directly addresses the pain points your product or service can solve. Such content comes in the form of blogs, social media, keyword strategies and search engine optimization (SEO), news, images, whitepapers and eBooks, reviews and ratings, the list goes on. The crucial element to keep in mind is that all of this content is helpful to your "customer." This marketing funnel will help you visualize inbound marketing for higher education: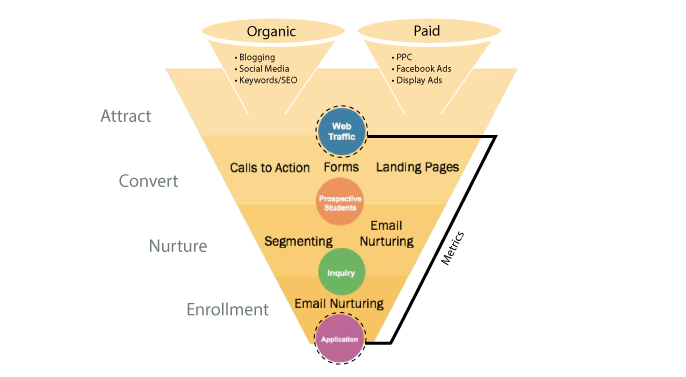 Why is Inbound Marketing Effective for Higher Education?
For starters, in the case of universities and colleges, applicants and potential students are the "customers" so to speak. This applicant's "pain point" is multifold: he or she is not just looking for a school to attend but also a brand to carry, a program to study , the cost of tuition, and sometimes a location in which to live - if it is not an online program. The inverse relationship between an academic profile and enrollment can be counterbalanced through inbound marketing methodology by casting a wider net at the top of the funnel. When your website attracts more traffic at the top of the funnel, your college will likely experience a higher conversion rate trickling down the funnel.
Let's Consider This Demographic Data Point
If we focus on undergraduate programs, we find that the majority of students range between ages 18-23. While graduate programs may attract older demographics, it may be surprising to find out that according to the Council of Graduate Schools, the average graduate student is 33 years old - this has remained the same for the last few decades.
Age range is a crucial consideration in this context. The incoming classes for the next several years of both undergraduate and graduate students will either be Millennials or the "Digital Natives" of Generation Z. Both of these populations have grown up with the internet and often turn to the internet for help in making major life choices or purchases. In fact, according to Google, 77% of education seekers will visit a school's website at least two weeks, and oftentimes at least two months, before taking action. So what's next?
Develop a Content Strategy that Converts Higher Education Traffic Through the Marketing Funnel
When you accept that your target audience is going to be online, it's time to start developing an inbound marketing content strategy. Content should work to drive traffic through the funnel by offering valuable, educational information that potential students would be willing to exchange their email address for. The key to this kind of content strategy is consistency and relevancy.
How to Produce Consistent Content for Higher Education Marketing
Bandwidth and red tape often pose a barricade to executing plans in the university setting. Yet, there are actually a number of untapped resources for content generation. Consider reaching out to your current student base for photography, film, or writing internship opportunities. When it comes to social media, don't let it fall by the wayside. Your university's future students are using these platforms, which means you also need to create a presence there. In this list of the top 25 college social media profiles, Harvard ranks the highest in all three platforms where they share student highlights, life on campus, and more great relevant content. This doesn't come as much of surprise, though, given the fact that Harvard has been the model college for other marketing initiatives like their college marketing videos in this blog.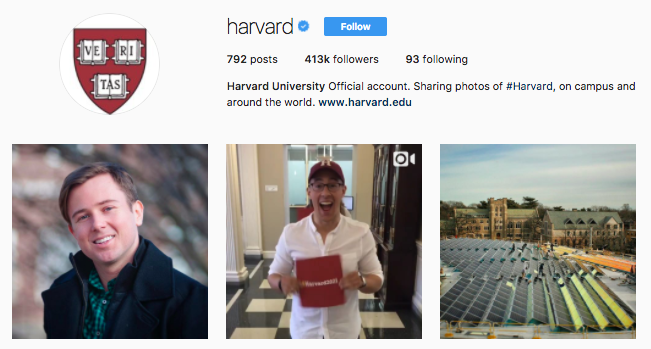 How to Produce Relevant Content
Producing relevant content means answering questions before they are asked by prospective candidates. Consider offering your FAQ's on separate pages like Fordham University. This strategy maximizes their potential SEO value per keyword. Becoming the go-to resource for students at all levels will give you an advantage in search engine rankings.
For each piece of "free" content (anything not gated by a form), provide at least one relevant and valuable content offer in exchange for an email address. Take Sacred Heart University's MBA Program description page for example. Notice how there are 3 offers for a potential student at every stage in their "buyer's" journey:
A program brochure for those seeking more information
A "Speak with an Admissions Counselor" for those ready with specific questions
An "Apply Now" CTA for those ready to start their application
This strategy effectively pulls traffic in with "free content" that is rich in keywords and highlights program details to then drive potential students to convert on one call-to-action or another. This brings us to the next section of the funnel.
Nurture Your Contacts
As your traffic converts, it is important to have a segmentation strategy in place. Whether this procedure is a new one for your higher education institution or not, The Parthenon Group (acquired by Ernst & Young LLP), highlights the dire need for segmenting contacts in higher education in this short segment titled "The Differentiated University." Now more than ever, email marketing must be personalized to be effective. Segmenting contacts gives you the opportunity to strategically market to different groups of potential candidates with a more valuable and personalized message. For example, offer information that will be valuable to potential students at different places in life, such as a new diploma program or additional evening classes for those showing interest in non-traditional programs. Or if you want to get program/department-specific, consider hosting a panel of Marketing professionals to discuss industry trends, you could easily promote it through an email marketing campaign aimed at contacts who have shown interest in Marketing or Business programs.
Getting to Enrollment
At the end of the day, the number that really matters here is the conversion rate of traffic to the site to enrollment. When you can attribute your admitted and subsequently enrolled students directly to marketing efforts across your website and social media platforms, you'll recognize, in full, the benefits of inbound marketing for Higher Education. Another way to visualize this process is with this simplified example: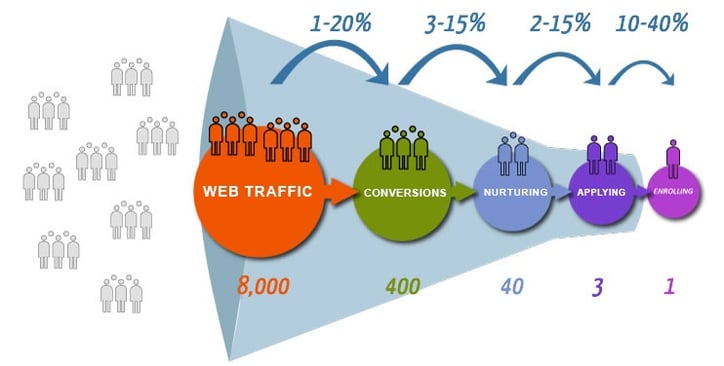 Here, we follow the funnel horizontally to measure the conversion rate of traffic to conversions, conversions to nurturing, nurturing to applying, and finally applying to enrolling. If, however, we measure traffic straight to enrollment, we return a 0.0125% conversion rate. Use this model to understand your own university's conversion rate and set goals based on the available data. If your conversion rate is not performing at the level it should be without making changes to increase your academic profile, it's time to start thinking about strategies to cast a wider net at the top of the funnel.
Alas, fret not. The inverse relationship between heightened academic profile ranking and enrollment is highly manageable when you put proper forethought into your inbound marketing strategy. Contact us today for a free consultation or take a look at our service offerings for a more detailed understanding of how we can help support your inbound strategy.