Over the past couple of weeks, Twitter, Facebook, and Instagram have been flooded with photos of recent grads celebrating graduation. Whether it's of decorated caps, accepting a diploma, or pictures of families and friends, there are countless photos of commencement ceremonies from colleges around the country. Many universities are using social media by joining in on this and encouraging students (now alumni) to share their graduation moments, which are collectively presented to not only represent the university, but their students as well.
Trending Hashtags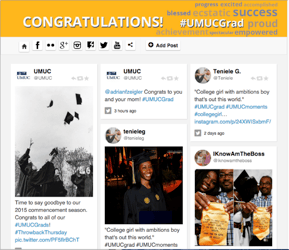 Hashtags have been a prominent way for students to share their graduation photos, whether on Twitter, Instagram or Facebook. In fact, many universities promoted specific hashtags that became trending during commencement ceremonies. Once students used one of the trending hashtags, universities were able to collectively pull the photos on a real-time feed. The University of Maryland University College is a great example of this. They had one hashtag, #UMUCGrad, which pulled all photos with this hashtag into a live feed on their commencement website.
George Mason University took another approach. The university had several, five to be specific, official hashtags for commencement weekend. Instead of pulling all photos with one of these hashtags into a main feed, the official account of the University for each of the social media sites – Facebook, Twitter, and Instagram – either shared, retweeted, or regramed photos.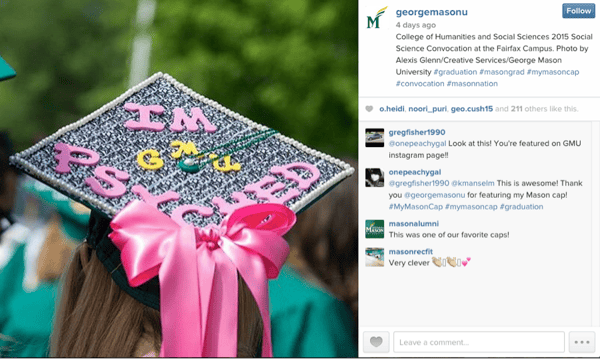 It's interesting to note how big of an impact social media has had in recent years, especially with universities. If universities are using social media to attract potential students and keep in touch with alumni, there's no reason they shouldn't be able to use it to celebrate commencement and school culture as a whole.
---