We all know about the rise of Internet shopping. Hello, does anyone shop at a brick and mortar store anymore? But the next Internet shopping trend that is taking off and that companies, for the most part, have not yet caught on to is the popularity of YouTube holiday shopping guides.

According to Google research, more and more smartphone users are turning to YouTube for ideas on what to buy their loved ones for the holidays, especially for home/garden items and consumer electronics.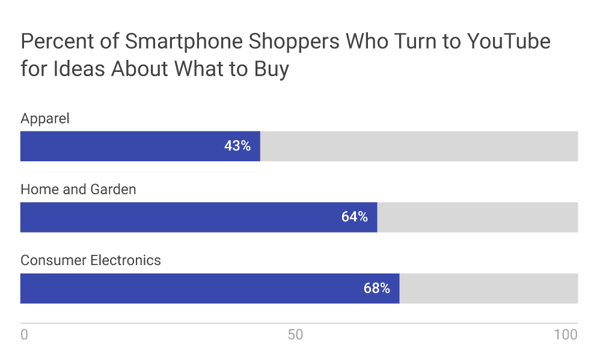 Source: Google/Euromonitor International, "Retail Micro-Moments," U.S., apparel, consumer electronics, home & Garden mobile shoppers, n=500 for each category, Jun. 2016.
There are plenty of YouTubers who have gift guides, but here we're going to focus on company's who've jumped on this YouTube marketing trend because, hey, we're marketers and communicators for companies. Here are some of the few we came upon that we liked.
1) Sephora has its act together in this space. Not only do they have a number of YouTubers hailing their products, but they also have their own holiday gift guide.
2) Grey Rock Clothing Company located in downtown Guelph in Ontario, Canada is one of our favorites. It's well produced. No words, just products featured in a cute, short skit.
3) What would holiday shopping be without toys! A.C. Moore Arts and Crafts took the easy route, putting together their best list by grouping videos of 15 of their favorite toys.
4) Adventure gear from Rocky Mountain ATV/MC purveyors of off-road vehicles and gear are really good at this. They have simple gift guides for dirt bikes, ATV's, UTV's, street bikes and adventurers in general that mimic the best YouTubers. Something many companies could easily produce. Here's a sample.
5) Now fountain pens are not something many of us use on a regular basis, but we like the way that Goulet Pens organizes its gift ideas for different types of users from newbies to fountain pen artists.
6) And in the season of giving, nonprofits too should profit from folks searching YouTube for a good charity to give to. The North Texas Food Bank has a one of the few holiday "gift giving" guides we've seen.
7) And finally, for a twist on holiday giving, Kohl's has assembled a series of vignettes entitled "Give a Little More" about the variety of ways their associates give to others. Heartwarming stories that show the company and its employees in a positive light – and encouraging you to give to others this season.
It may be too late to get on top of this YouTube marketing trend this holiday season. But there's plenty of time to plan for 2017!
Happy Holidays!
---