Today, customers take matters into their own hands; when buying a product, investing in a service, hiring a company, or hiring a vendor. People are searching for details about product manufacturing and factory production, as well as to read customer service reviews. Most information is easily accessible through a single search on Google. However, more and more customers are starting their search somewhere else: Twitter.
In fact, 54% of users reported taking action, on a product or service, after seeing that brand mentioned in Tweets.
At first glance, the social media mega platform can seem overwhelming. With 100 million users tweeting daily and an estimated 500 million tweets sent per day, Twitter is a powerful tool that even B2B Marketers tend to underutilize. Many companies that implement industrial manufacturing marketing through spaces like Twitter see 25% more engagement.
Online polls, forums, Q&As, virtual events, and extensive discourse driven by industry experts on Twitter have become valuable spaces to market manufacturing companies.
Understanding the Value of Twitter
People from around the world visit Twitter every day, several times a day, to read about what's happening, straight from the source. Verified reporters, celebrities, and politicians are just a tag away, and what they have to say goes straight to their audience.
Twitter facilitates a direct connection from the industry or brand to the individual. Thought leaders in various sectors, billionaire CEOs, and fast food giants all engage in Twitter discourse to drive discussions around hot topics, current events, businesses, prices, and products.
With that said, it can be tricky to stand out on a platform that pushes out thousands of pieces of content a minute, but with the right strategy, you can hone in on your audience and get your message across. An educational institution will rely on different KPIs than an online retailer.
A B2B manufacturer doesn't necessarily need to focus on how many followers they have, but an influencer does. In searching how to market a manufacturing company, think about what you want to use Twitter for. Take a step back, see what other companies and industrial marketing agencies are doing.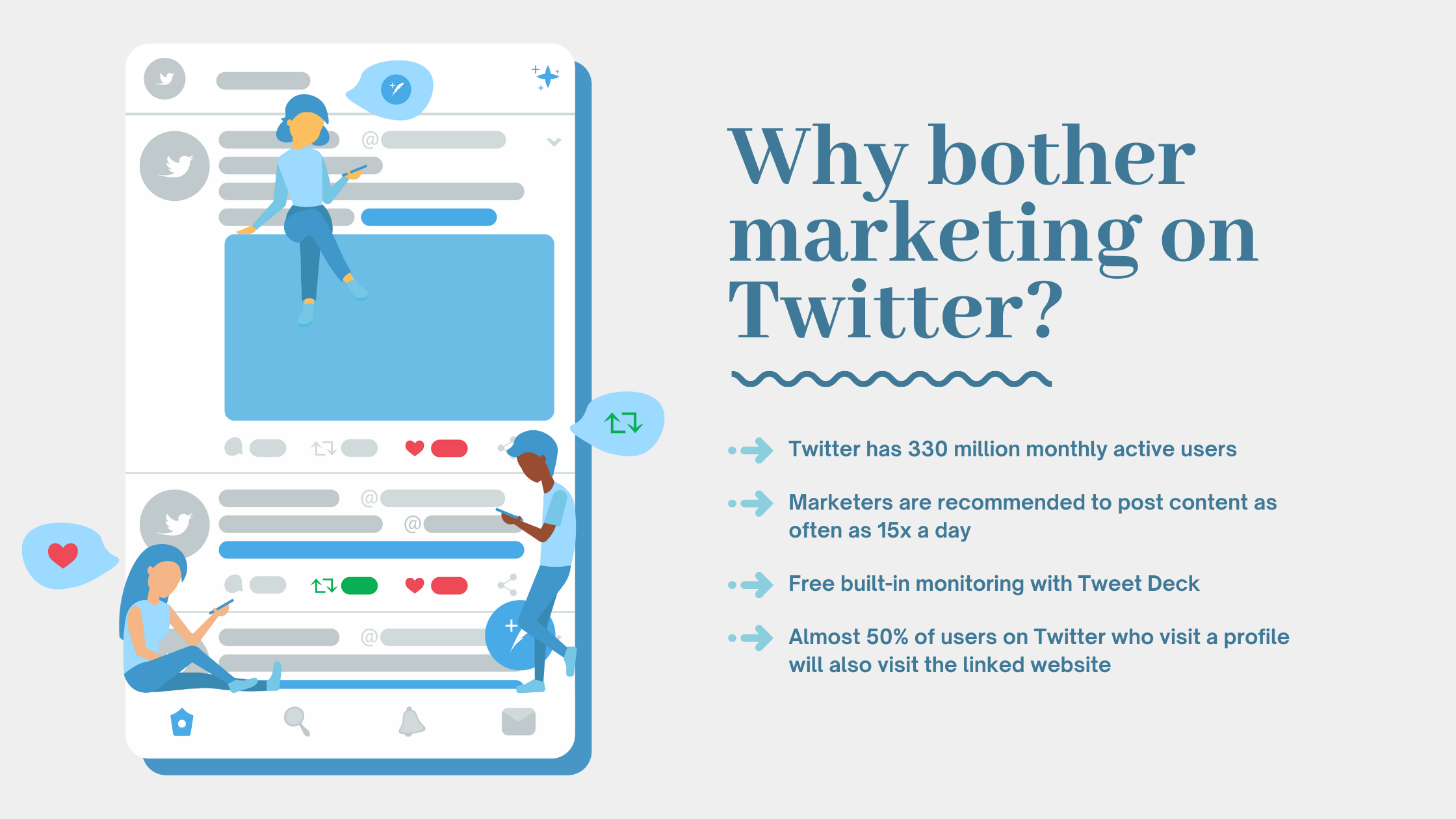 Creating a Twitter Marketing Strategy
For Brand Awareness
Twitter is a great place to get the word out fast, especially for industrial manufacturing. The first step is to have a profile that stands out. When choosing a Twitter handle, if your company name is not available, use creative solutions and workarounds like having a CTA beforehand or adding HQ to the end.
For example, 'Snyder Group Inc.' could be @WeAreSnyderGroup or @SnyderGroupHQ or shortened to read @SnyderGrp.
Complete your Twitter profile in its entirety, it's important never to leave anything blank. Your bio should summarize your company mission in a voice that resonates with the brand. Using recognizable and consistent branding is key.
Make sure your profile picture is a version of your logo optimized for the smallest sizes. Branded images in your header photos can be used to promote campaigns, events, achievements, and more.
In industrial marketing today, effective ways to spread awareness with your audience include the following, liking, and commenting on public tweets relevant to your brand, industries you serve, and marketing strategy.
Remember that a big part of Twitter is being in the moment. Having a plan to promote your content is important, but interacting with your industry or industries is a huge part of building trust between your brand and customers.
Product launches, promotions, changes to services, and blog updates are all examples of key information your audience will want to know. But getting engaged in conversations around the industry with other stakeholders is an important practice.
For Increased Web Traffic
Twitter makes it easy to kickstart marketing efforts and cycle word-of-mouth marketing. Integrating multimedia, polls, retweeting, and using tweet threads are all great ways to help draw your audience to your profile.
In doing so, you're engaging in a community-building initiative that is not only fostering a meaningful connection between brand and audience, but continues to work for you long after publication. Evergreen tweets are not only visible on their native platform, but appear in relevant Google Search results.
With that in mind, businesses should leverage the right keywords and hashtags when tweeting. An excellent way to understand what works best for your business is to research best practices by evaluating your competitors' content.
For Customer Service
For some companies, promoting content isn't a priority. Instead, Twitter is a place for them to address customer concerns immediately. Having 'Live Assistance' and 'Instant Chat' are now standards for some businesses that regularly receive customer queries and concerns.
Twitter allows organizations to present brand representatives, aka customer service representatives, to respond to any product or service issues, questions or engagements. Just in the last two years, there's been a 2.5x increase in customer service conversations on Twitter.
For Tracking Competition and Trends
Because Twitter appeals to many different industries, it's critical to know the audience you're trying to reach. Every tweet should be answering the question, "what do we want people to do when they see this?"
When considering who to follow, how often to tweet, what hashtags to use, and influencers to engage with, it's best to take advantage of tools already available to you. Use Twitter Analytics and Tweet Deck to manage your engagements, DMs, top-performing posts, trending hashtags, and so much more.
Regardless of your goals, knowing what your competitors are up to is the key to your business brand-building success. Furthermore, engaging with a trending topic is a quick and easy way to get a performance boost.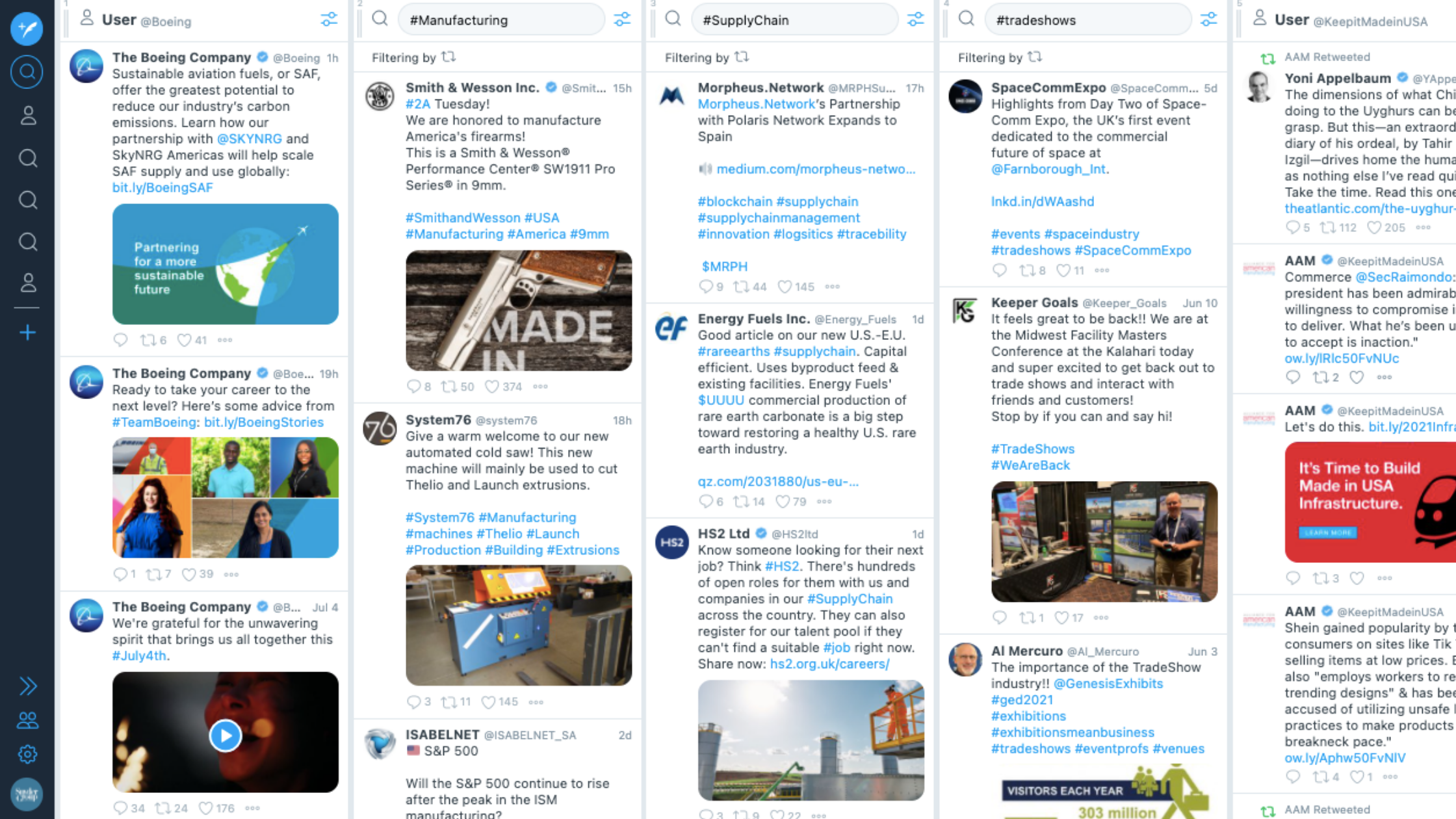 Become A Twitter Expert
The need for up-to-date information on products is what drives businesses to be actively posting on Twitter. The fastest way to bolster twitter brand awareness is through consistent posting and responses to customer interactions. Digital Marketing for Manufacturers is a growing and thriving industry, so it's important to stay on top of growing trends.
We believe there is no one right way to tweet, but we recommend strategies to help set your company up for success and to get started on Twitter.