Generating leads is crucial to any business, and the internet has become one of the best places to do this. You want to be bringing in as many new customers as possible, so you should be taking advantage of the web to help.
Advertising, blogging, posting through social media, and keeping up with SEO best practices are just a few key tactics for a strategic awareness campaign.
These tried and true methods continue to be valuable sources to access new leads, but businesses may need to do more if they want to keep up with the latest trends in digital media and technology. Some have gotten ahead of the curve, leveraging Facebook and LinkedIn Groups, Reddit forums, and Discord channels to liaise directly with their audience, but many still overlook these online communities, where active users meet and collaborate virtually with like-minded people.
So how do online communities help with B2B lead gen? Keep reading to find out.
What Online Communities Are There?
There are plenty of different online communities out there. These various communities attract various audiences so understanding the options available will help you determine which ones are most suitable for your business.
Discord for Lead Gen
In its earlier days, Discord mainly attracted gamers. Now, however, there are users with all different kinds of interests. It's a real-time chat platform where users can join servers and interact with other members.
A channel can contain various chats relating to specific topics. One of the most useful types of channels for a business is an "announcements" channel. You can disable the chat and use it to make important business announcements. You have the option to make your servers public or private based on the level of access you want to give people.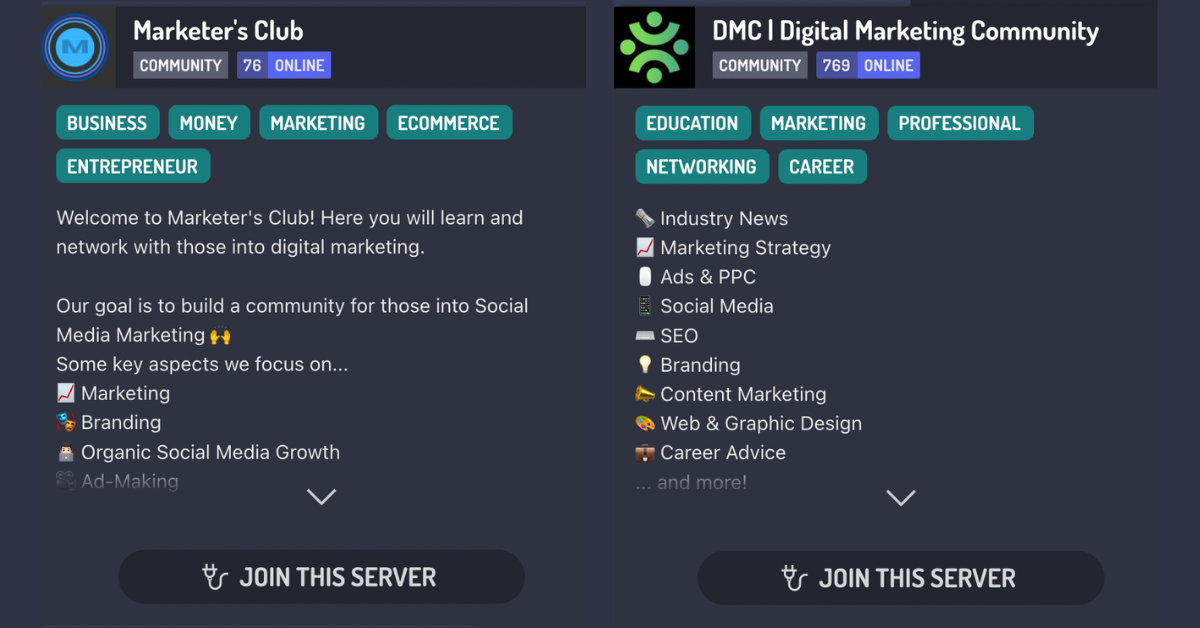 This example from Discord shows two popular Marketing Discord servers with the number of online community members as well as the general topics discussed.
Reddit for Lead Gen
Reddit is one of the most popular websites in the world. It allows users to share content and information for anyone to see. People can upvote or downvote content based on what they think of it.
By looking through different subreddits, you can find ones that are appropriate for your business. This allows you to connect with potential leads and cultivate an image for your brand. AMAs (ask me anything) are a great way to engage with people and answer questions that they have about your brand.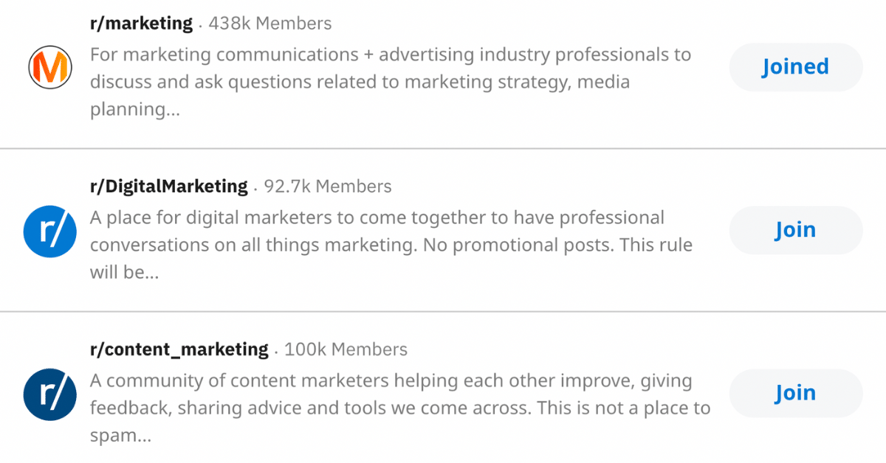 This example from Reddit shows a few of the most popular Marketing communities with the number of members.
Facebook Groups for Lead Gen
Meta, previously known as Facebook, is one of the most widely used social media platforms in the world. Over the years, more businesses have started using it to market their brands and connect with audiences. Social media lead generation has proven to be one of the most effective methods for various brands.
Facebook groups are ideal for customer engagement. People can interact directly with your brand through posts and private messages. You can also provide updates and information as and when needed and can personalize a Facebook group so that it's better suited to your brand.
There are various features Facebook groups offer that are ideal for lead generation, including:
Onboarding questions

Links in image descriptions

Live videos

Pinned posts

Watch parties
Facebook is one of the most cost-effective ways to market a business, and with so many users worldwide, it's easy to connect with a large audience. Hiring a professional social media manager can help you take advantage of Facebook groups to generate more leads.
There are some potential downsides. For example, they don't show up in Google searches, so people can only find them through Facebook or other direct links. They also don't provide analytics on the group activity, so it can be difficult to determine how well certain strategies are working.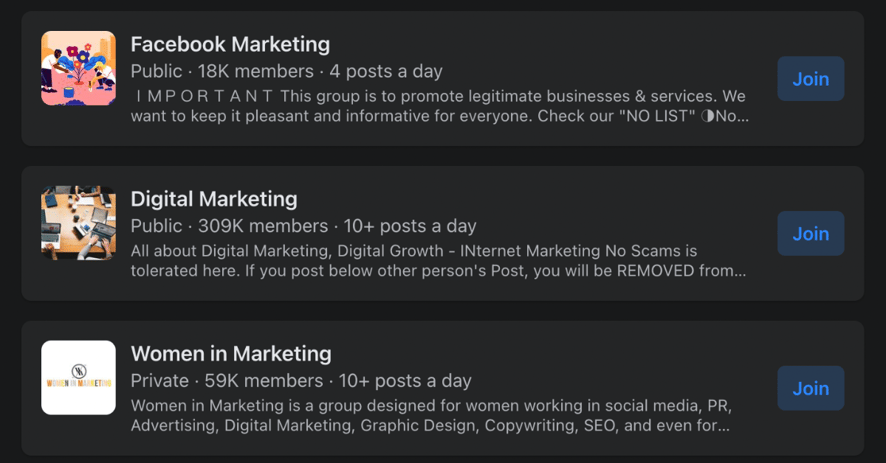 This example from Facebook shows a few of the most popular Marketing groups with the number of members and the average number of daily activities.
LinkedIn Groups for Lead Gen
Like Facebook, LinkedIn is a valuable lead-generation platform that many businesses leverage for advertising and organic outreach. What sets LinkedIn apart is that its ads are capable of targeting users by job title, function, industry, and more, making it one of the best ways to garner quality leads. Click here to learn more about how to use LinkedIn ads for account-based marketing.
On the organic side of digital marketing, LinkedIn groups provide opportunities to identify target audiences and learn about their challenges, interests, and professional backgrounds. This can also make it easier to reach out directly to persons of interest.
Joining a few different, related LinkedIn groups (or even creating your own) works to get your name and your company's name in front of the people you know you want to target. The best way to nurture these correspondences into leads is to complete your profile and optimize your LinkedIn account, and ensure there are multiple funnels leading your audience to opportunities to connect.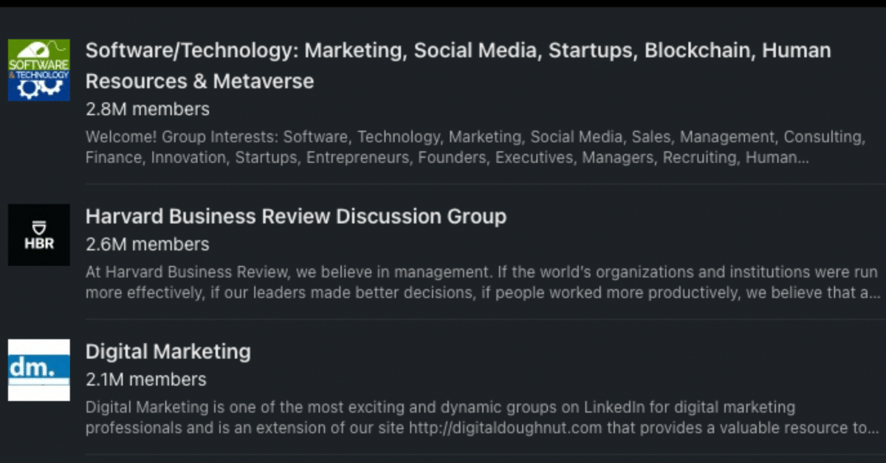 This example from LinkedIn shows a few of the most popular Marketing groups with the number of members.
Pros of Using Online Communities for B2B Business Opportunities
Community building for lead gen can be ideal for businesses in various industries. Taking advantage of these can have a huge impact on your lead generation rate.
Access to a Self-Bucketed Niche
No matter how unique a product or service is, you'll be able to find a community online for it. The internet allows people with uncommon interests to connect, and you can find these groups to promote your brand to the right audience. Finding the right B2B online community can be incredibly beneficial if your brand has a very specific niche.
Insight From Target Audience
One of the most useful aspects of online communities is that interactions go both ways. Rather than just marketing your company, you're engaging with customers and getting better insights into what they think of your brand. You can implement these insights into your lead generation strategy to get better results in the future.
Boost Your SEO
With most online communities, you can't use links, so you'll get little SEO (search engine optimization) benefits. The communities themselves, however, can often have a high ranking when users search for communities to join. This means that even if your own website doesn't show up on the front page of Google, online communities that relate to your company can.
Access an Active Community
Some online communities are incredibly active, with hundreds of thousands of posts a day. If you post quality content, it may get shared and talked about a lot, helping you reach a wider audience with ease.
Stand Out Without Ads
Paid ads can work well for lead generation, but these days they're often ignored by consumers. Online communities can be leveraged for more meaningful and organic interaction and engagement. Ultimately, putting more effort into online communities is a better way to get your brand seen by potential leads.
Generate B2B Leads Through Online Communities
No matter what industry you're in, you should always be working to generate more leads. You also want to ensure that you're targeting the right audiences so that the leads are high quality. Online communities present an excellent opportunity to do this.
Snyder Group is a full-funnel marketing agency with years of experience in B2B lead gen. We can help your brand develop the ideal marketing strategy to improve lead generation. To find out more about our services, click here to contact us today.