Like most social media platforms, when first created, Twitter was designed with individuals in mind. The creation of Twitter in 2006 gave early tech adopters another digital gathering space to share their thoughts and ideas (in under 140 characters or less.) 

Twitter's rise as one of the top social media platforms has caught the attention of brands worldwide. Slowly, industrial and manufacturing brands began to use Twitter's business generating abilities to grind their social media gears!
Today, Twitter has become an incredible platform for companies, allowing those that might not normally have the easier-to-market B2C products the ability to communicate with their consumers. These companies are no longer questioning how manufacturing brands use Twitter to kill it on social media. They realize that Twitter does indeed fit with the way they market and sell their highly specialized, complicated, or not-super-exciting, TBH downright nerdy, products.



Below we show how three manufacturing brands use social media, specifically Twitter, as their go-to platform for engaging with consumers and increasing their overall brand recognition. 


According to SocialBakers.com, the fastest growing industrial Twitter profiles belong to SpaceX, ExxonMobil, and the Boeing Company.

SpaceX (@SpaceX)
With 1.9 million followers and counting, this American aerospace manufacturer knows how to engage with its consumers. SpaceX's tweets are top-notch. These have ranged from a call out for help from bystanders regarding the investigation into a less-than-successful rocket launch to showing followers what they are unable to see practically anywhere else – incredible images and videos from space.
ExxonMobil (@exxonmobil)
To become a thought leader in the manufacturing world, a brand's content must go beyond their products and services. ExxonMobil, the world's largest multinational oil and gas company, has become the voice of great expert thinking on Twitter. While their primary products are fuel related, ExxonMobil's tweets don't focus on their products. Instead, the company often retweets industry news that could be useful to their followers, as well as environmentally friendly, clean-energy initiatives that they are spearheading. ExxonMobil also keeps things interesting by tweeting different types of content – like this fun fact below that can serve as a conversation starter for followers and other brands: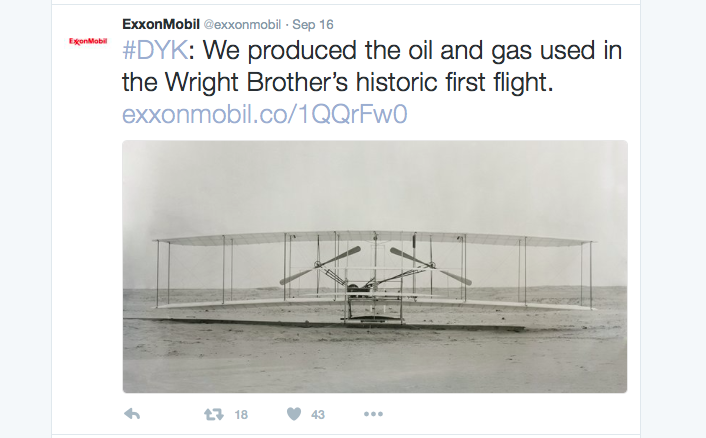 The Boeing Company (@Boeing)
Lastly, we have the Boeing Company with over 335,000 followers. Boeing is the world's largest aerospace company and leads the way in manufacturing commercial jetliners and systems for defense, space, and security.

Boeing does a great job at tweeting daily content and utilizing industry relevant hashtags to showcase other programs like educational initiatives for children and the promotion of STEM programs. Like SpaceX, they also include unique videos pertaining to their product. Most recently, Boeing tweeted video footage from their live launch of a new pilot training system for the U.S. Air Force training missions.



Get Your Brand on Twitter
Your manufacturing or industrial brand can join the social media conversation, just like SpaceX, ExxonMobile, and Boeing have done. A robust Twitter feed will help you gain followers and recognition, get your brand's information retweeted to more people and industries, and in turn, drive new followers back to your company's website where they will hopefully become new clients or customers.