Google has dominated the internet, holding the title of most used search engine for over a decade. However, last year, a recent social media platform, TikTok, started to make a name for itself as a valuable SEO tool.
Ranking as the most popular domain towards the closing of 2021, TikTok quickly became one of the most downloaded apps across all Android and iOS devices. Known as one of the fastest-growing social media networks in the industry, this popular video-sharing platform was introduced in 2016 when it reached more than a billion users in over 150 different countries.
Initially, a place where users share video content with an audience in real-time, TikTok eventually began to transform into a useful search engine tool for the younger generation. Because TikTok videos are more concurrent than any other search engine network available at the moment, it has allowed the platform to take advantage of harboring relevant content on a consistent basis.
With 80% of content being User Generated Content (UGC), TikTok has become the central hub for viral videos, surpassing YouTube, Meta, and Instagram. It sets the standard for how videos should be produced and shared. As a result, many of these other platforms have adjusted their User Interface (UI) and User Experience (UX) to facilitate a similar experience to TikTok.
In cases of discovery, Google Search is losing traction, with more users commonly searching for topics including product information, brand reviews, and overall experiences on TikTok instead.
In the examples below, when searching for "Things to do in Connecticut" or a review on the new Samsung Galaxy Flip phone, users can clearly see the difference between platform search results. For "Things to do in Connecticut," Google immediately displays paid-for advertisements in the initial results, while TikTok provides a variety of other options searched for as well as top-rated and most recent.
For the results on reviews for the Samsung Galaxy Z Flip 4, TikTok displays a selection of videos with users giving their personal take on the new phone. When searching for reviews through Google, a user must first scroll past the advertisements selling the actual product to then have to sort through articles, Youtube videos, and critic reviews.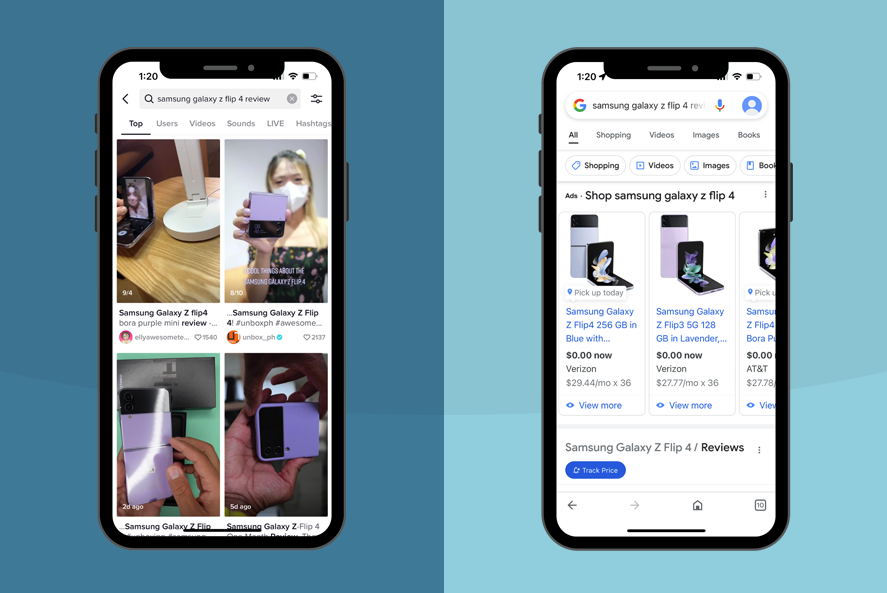 This change, inhabit, has left many marketers and businesses wondering what this will mean for future purchasing trends.
Changes in User Behavior
Internet users are becoming more impatient, desiring streamlined information at a faster pace. As technology continues to advance, Gen Z and Millenials are quickly finding themselves driven to TikTok'sunique platform. TikTok users gain more access than ever before to the outside world, finding success in creating consumer trends and acquiring informational data on what people are particularly interested in.
Research shows that the faster a buyer's journey can be made—from awareness to conversion—the more likely a brand can find success. TikTok jumpstarts that journey with introductory content and then drives users to the conversion milestone by nurturing them with similar videos from comparable creators.
Search Algorithm and Technological Performance
TikTok's search algorithm determines the content you see based on popularity and relevance, allowing each user to receive their own personalized recommendations of video content to their feed. While similar to Google and Youtube, what makes the TikTok platform experience unique from the rest is:
Accessibility through a free-to-use app and infinitely sharable content
Visual appeal and a straightforward user interface
Fast access to knowledge (providing users with robust information in 3 minutes or less)
Social validity and community by bringing together users based on their shared interests
Integrating more features that can help users access their information faster, TikTok recently released a new capability that allows keywords to be searched directly from the comments section. As a result, TikTok is becoming a much more feasible method to access information than anticipated.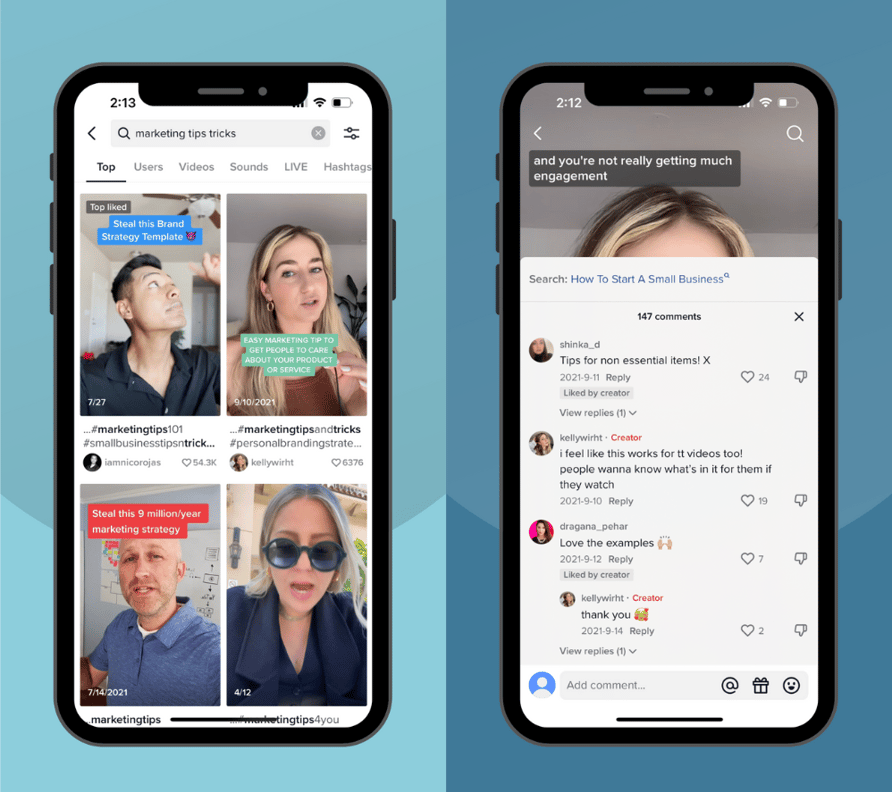 How to Take Advantage of TikTok's SEO as a B2B Organization
TikTok offers both B2B and B2C opportunities when it comes to content creation, making its capabilities seem limitless for new creators and established marketers. Though many believe that B2C organizations are favored on the app, plenty of B2B companies can use the platform to their advantage.
Because TikTok is such a great tool for implementing overall brand awareness, many B2B companies can use the platform to establish trust and network themselves with other potential businesses. Organizations should consider implementing the platform into their regularly scheduled social media content as part of their marketing strategy.
It is clear that short-form videos are on the rise with zero signs of slowing down. Frequenting the use of this app will allow businesses the opportunity to reach new customers while continuing to diversify their portfolio of creative content.
Here are some tips on how your B2B company can take advantage of TikTok's growing search engine opportunities:
1. Keep in Mind Who Your Target Audience Is
When creating content for the platform as a business, it is important to think and act like your consumer. Similar to how you think about the Hubspot buyer persona, you want to provide content that answers FAQs that customers may have when searching for information.
2. Keep Your Content Short and Relevant
Although the app allows users to create videos lasting up to 3 minutes long, it is recommended to keep your content no less than a minute. TikTok videos should be engaging. Because the content is user generated, do your research and be sure that what you are sharing on the platform is valid and can be fact-checked.
3. Optimization is Key
When making a video, be mindful of what you are putting in your text. These include:
Captions
Text overlay
Video title
Video descriptions
Hashtags
Optimizing your video with relevant terms can prove useful to your audience. In the past, many search engine platforms have used long-tailed keywords to enhance their rankings. With TikTok, when you optimize your video and select the right keywords to catapult your engagement, you can connect more with users who want to watch your content. Adding keywords to your text on screen, specifically within the first 5 seconds of a video is helpful.
Placement is also key. Certain content-creating apps now come pre-built with settings to demonstrate where creators should place this content so that it does not overlay with in-app text and buttons.
4. Follow the Trends (but only if it is helpful to your business' growth)
To discover the most relevant trends for your company, do your research and search for hashtags and relevant videos in your field, industry, and/or niche. The more you like and comment on trending videos the more likely your "For You Page" adapts to content that relates to you.
The platform holds an abundance of trends, from challenges to sounds, allowing users to engage in trends and use sounds or actions to their advantage. Plenty of businesses have used trending sounds or actions to make their videos go viral, placing them on the radar of millions of potential customers.
Don't Shy Away From New Media Methods
Though TikTok is not classified as a search engine, the social media platform is making a major impact on companies and how they choose to market themselves. Offering paid advertising opportunities as well as organic growth, TikTok is a platform that more and more businesses like Grammarly, Shopify, and Adobe are flocking to.
Though it may seem intimidating, rather than being afraid of the change in user behavior and adaptive technology, businesses should embrace the opportunities that the platform offers, using it as another source of reach and engagement.
Today's marketing landscape is changing, and engagement is at the forefront for most organizations. That's when marketing can focus not only on how well your message resonates but also on how well it translates into sales. After all, there is no point in sharing a message if no one listens.
TikTok offers a platform that can help you reach an audience you may have not acquired otherwise—and that has value. Be sure to explore TikTok as part of your social media strategy before dismissing it as just another short-lived trend. Refine your plan of action based on SEO and your organization's overall mission and goals.
Look for trends in your account, and closely monitor what videos and keywords are bringing in more followers and causing an increase in engagement. By doing so, you may find a new way to connect with others that goes beyond a simple like or share.
Contact Synder Group
Now that you have some context on the value of TikTok as a search engine, let us help with our 30-minute marketing assessment.