Understanding your audience is crucial for putting together a solid SEO and inbound strategy. Search engine optimization (SEO) is based off of the non-paid traffic to your website based on your company's ranking on Google. By improving your B2B inbound marketing strategy to incorporate SEO strategies, you can increase the chances of people finding your content via search engine (Google, Yahoo, Bing, etc.).

How do you make sure your content shows up when it's searched for? That's simple- use long tail keywords. By using targeted long tail keywords, search engines will place your content in front of users, when the information valuable.

However, in order to make the most of your keyword strategy, you need to understand long tail keywords.
What is a Long Tail Keyword?
A long tail keyword is a specific phrase or term that is used to target a specific demographic. While a keyword is more general, a long tail keywords is more specifically-targeted. For example, "bearings" would be a keyword, but "Automotive Ball Bearing Manufacturer" would be a long tail keyword. By including "manufacturer" you are excluding any consumer traffic that would not benefit your brand. By directly targeting and using long tail keywords, you're increasing your B2B company's SEO rankings which will even increase your rank for more generic keywords. Of 1.9 billion keywords, it was discovered that 29.13% of keywords with 10,001+ monthly searches consist of three or more words. However, that shouldn't be your ultimate goal. Long tail keywords are crucial to increase the right traffic to the website that have the potential to convert into customers.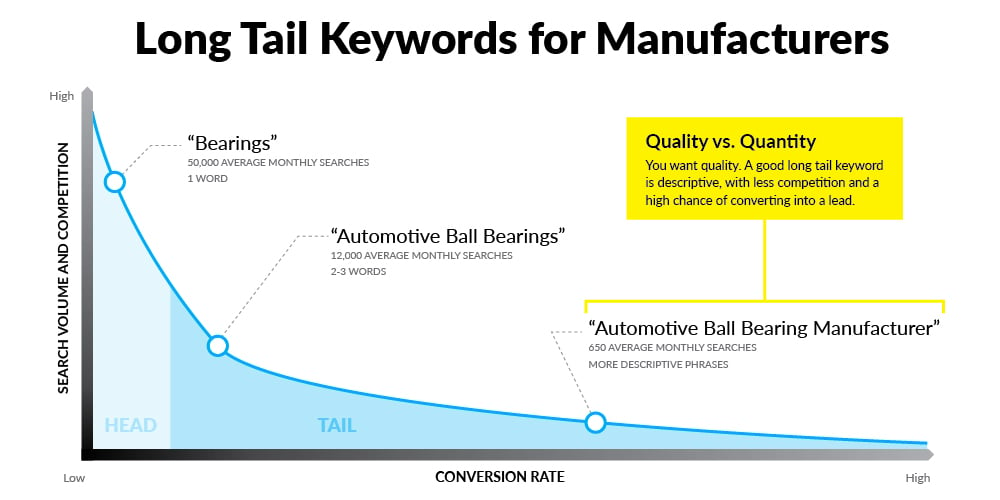 When you get more specific with your keywords you lower search competition and increase your conversion rate. Including bearings as a keyword is okay, but you're competing agains over 50,000 pieces of content. It is going to take longer to get on the first page, if you ever do. By adding in automotive and ball you decrease the search volume to 12,000 average searches, which isn't bad, but you probably are not removing the consumer traffic. Automotive ball bearing manufacturer lowers the search volume to 650 while increasing your conversion rate. Someone who is googling that long tail keyword is most likely a procurement manager and most importantly, your target persona.
Key Benefits of Long tail Keywords
Now that you know what a long tail keyword is, let's discuss the benefits.
Targeted Content: Once you have established your long tail keywords, you should be creating content to surround it. Write blogs, content offers, and eBooks that contain those long tail keywords so you can continue to rank for them. Plus, by creating more targeted content, you will be provided more resources for your ideal persona.
Less Competition: When you use long tail keywords, you are removing the irrelevant traffic sources by focusing on a specific area of your business.
More Realistic: When someone is searching for more information, chances are they are searching with long tail keywords. Think about how you normally type something into Google. Would you type "bearings" or would you be more likely to type "Automotive Ball Bearing Manufacturer"? When you focus on long tail keywords, you are improving your chances of getting noticed by your ideal customer.
Higher Conversion Rates: Since the traffic is much more targeted, long tail keywords have a higher conversion rate compared to general keywords. We're assuming your customer already has intent (dependent on what they're searching); therefore, by ranking for those long tail keywords, your company has a higher change of closing that lead as a customer.
Selecting the Best B2B Manufacturing Long tail Keywords
Now that you understand the benefits of long tail keywords, you'll need to select the right ones. The best way to select your keywords is to do an SEO Audit of your website.
What sections is your website broken into?
Do your product/service have geographic restrictions?
Do all the pictures have ALT text that contain the long tail keyword?
Are you using the long tail keyword in headers, titles, and meta descriptions?
Do the URLs include the long tail keyword?
In addition, if you put content behind these long tail keywords, you will be upfront and center when that procurement manager is looking for a new manufacturing company.



Long tail keywords will help solve organic traffic problems. They drive a large amount of converting traffic to your website and help with your overall website branding in a big way. Long tail keywords are your company's hidden secret to organic success!