Social media is largely the "screen" of choice for most Americans. Internet users have an average of 5.5 social media accounts and they are active on a regular basis on about three of those accounts. Those who are charitably inclined, young and old, are getting their information and staying connected to causes they care about via social media. In fact, according to a 2017 study, 75% of donors agree that social media is a primary news source for staying current on the work of their favorite organization[1]. So as a nonprofit, social media is a vital way to keep your donors updated on your programs and successes. Plus, your social accounts can double, triple, and even quadruple your exposure.
But let's not forget that social media can also be a medium for asking for donations as well. That same 2017 study found that 25% of donors say that social media inspires them most often to give – on a par with fundraising events.
Getting Donations Via Social Media
If your organization is already using social media regularly, posting content, and engaging with your donors and prospects often – which you should be doing – it's important to remember that "likes" don't translate to donations. However, there are ways to engage followers to support you with donations. Here we take a look at some of the popular social media platforms and how you can take advantage of them to boost your fundraising.
Facebook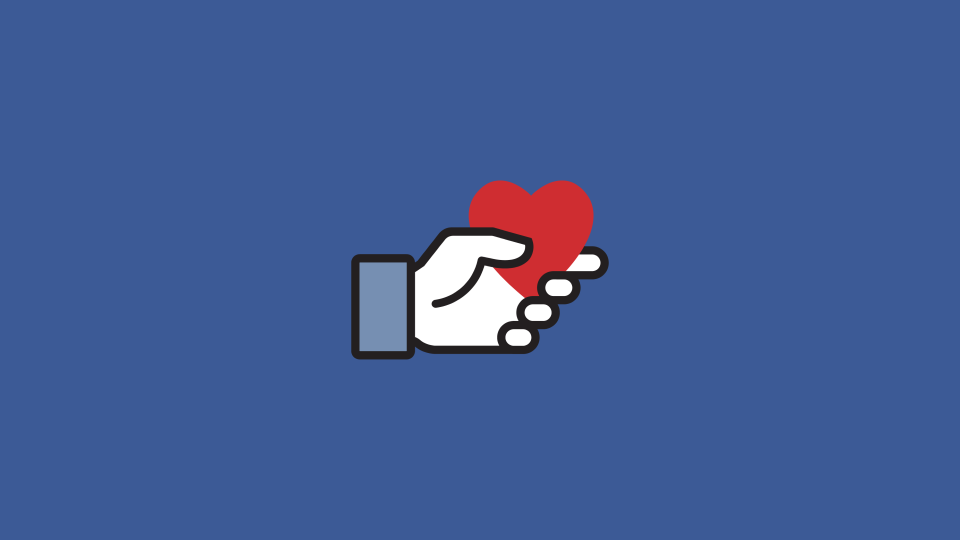 Image source: newsroom.fb.com
Of those 25% of online donors inspired by social media, 62% say Facebook is the most inspiring.
Facebook has built-in fundraising features allowing you to add a donate button right on your nonprofit's Facebook page or to your ads. Your supporters can also set up a dedicated fundraising page for a particular campaign for your organization.
The pros: there is no fee for the nonprofit and people don't have to go search your website but can link right to a donation page. And you can get your best supporters to rally for you!
The cons: a donor has the ability to opt-out of providing their email address, and Facebook will not provide the mailing address of donors. This can put a cramp on your organization's ability to follow-up with your donors or reach out to them for future donations. But if these people's initial donation comes through FB, and your organization is regularly using it as well, Facebook is most likely how they will engage with you in the future.


Twitter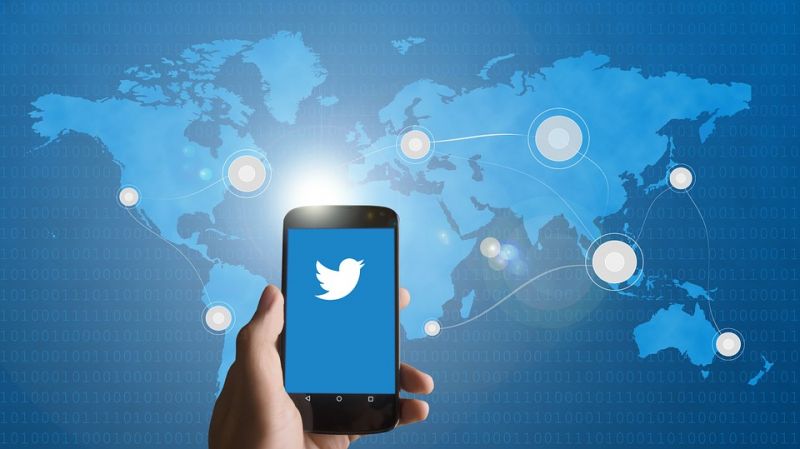 Image source: wwww.siasat.com
The second most inspiring social media account for donors is Twitter, coming in far below Facebook at 15%[2]. However, more than 50% of all Twitter users follow a charity's Twitter account so here's your chance to make use of that!
Twitter's character count (although better than in the past) can pose a problem when it comes to linking to your donation page since URL's can get long. To make it easier, post a shortened URL using a tool such as Ow.ly in Hootsuite or bitly.
Goodworld allows nonprofits to collect donations directly on Facebook and Twitter with #donate. Using the #donate, your supporters can comment or reply and give to your cause. Donors will have to go through a sign-up link initially before they can use the #donate the first time. But can then use as often as they want. There is no fee for nonprofits. Goodworld takes a small processing fee on every transaction.
The use of hashtags is important to gain traction for a fundraising campaign. If your campaign is connected to a larger national movement, such as breast cancer awareness month, a natural disaster or social movement, add the same hashtags associated with that larger movement to your post. This will make your post appear in feeds that people monitor for related news. Create a unique hashtag for your own campaign too.
Remember, don't make every single Tweet an ask (this goes for other social media as well). Post about your mission, the need for your organization's work and positive stories about your impact. And, always include engaging images to go along with them. Retweeting other people's mentions of your organization or information about the cause or service your organization is involved in is a good way of featuring the work you're doing without always pounding your own chests.
Still getting your organization's feet wet on Twitter or would like to up your game? Twitter has good tips in its nonprofit handbook.

Snapchat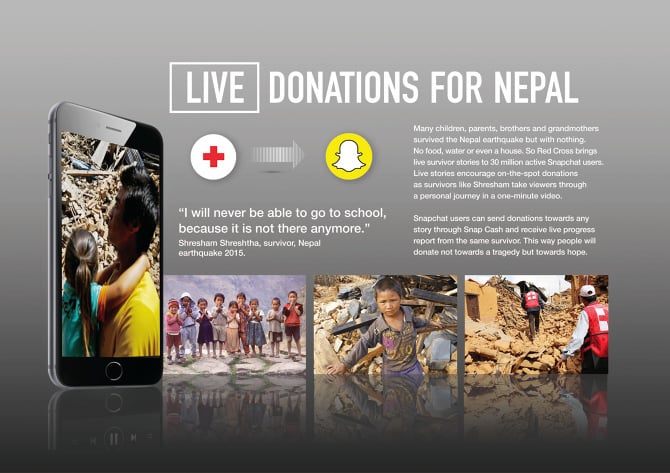 Image source: http://cargocollective.com
Snapchat is the second most powerful social platform in the United States and has more users than Twitter, Pinterest, or LinkedIn. Snapchat is a little trickier than Facebook or Twitter to drive traffic to a donation page since you can't share a link in a chat. The best way to get around this is to type the page URL into the chat asking people to visit your page. Share pictures about the campaign with URL on My Story or directly to individuals.
Don't forget to publicize your Snapcode on your website and other social media – even in printed material.
Snapchat does have a way to collect donations right through the platform called Snapcash. It is basically a way to exchange money between two parties with both parties needing debit or credit card information entered in Snapchat. This may not appeal to all organizations or donors.

Instagram, Pinterest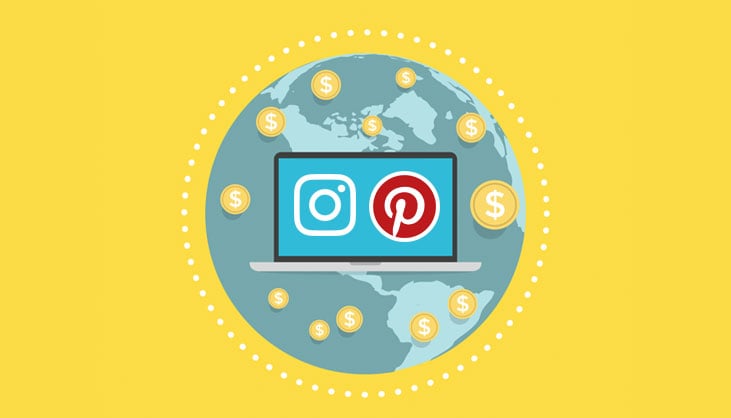 Instagram is a great medium for building your organization's brand, telling stories of need or success. Like Snapchat, Instagram does not allow links directly in posts. You can however, post images with text as part of it or videos. You can also reference URLs in your Instagram bio so let people know in your captions they can find links there. Do this to promote fundraising campaigns, events and your website in general. Don't forget to work those hashtags, as discussed above, as well. In Instagram ads, you can include call-to-actions like "Learn More" or "Donate Now" that take users to a website or landing page for donations.
On Pinterest, you can't raise funds directly, but being a visual medium like Instagram, it's a great place to show your organization at work on its mission, let people know about campaigns, events, how to donate. Pinterest is also a great place to garner interest for donated items your charity may need (silent auction anyone?) by showing images of them.
Make These a Part of Your Online Fundraising Efforts
These items below are a part of any good fundraising effort, so we're including to remind you that fundraising on social media should follow the same protocols as with any other medium.
Share all over – Add your social icons to your website, URL's to printed material and email sign-offs. Ask your donors, volunteers and friends on social media to share as well. In turn, like, comment on and share posts/pages from like-minded organizations and people who support your mission.
Make sure you reply – People want to be engaged with charities they believe in. Reply to comments on your posts, tag those who have commented or tag donors. When you do so, notifications are automatically sent to these users, bringing them back to the post to continue the discussion. This will also send out updates in their friends' newsfeeds. (that's how you get that exponential reach).
Review and Revise - review and analyze your social media presence such as how well posts perform/are engaged with. Make adjustments where necessary, and test different elements such as calls-to-action, images, color schemes, etc.
Keep Supporters Engaged - Celebrate fundraising milestones. Keep donors and volunteers updated on the progress of a campaign. Thank donors by tagging them. Share posts of media recognition. Ask donors for testimonials or single out special donors to feature.
Social media is not a magic fundraising bullet. It builds on your nonprofit's fundraising eff­orts. Like good offline fundraising, social media fundraising campaigns foster a community and inspire others to promote your charity. So make sure your fundraising strategy includes sound social media efforts to multiply your reach and the support for your organization's mission.