Knowing what advertising your competition is doing in the marketplace is a critical step to developing your own ad strategy. With the advent of programmatic ad buying, competitor ads may be spread across hundreds of websites and getting insight into their strategies manually would be a daunting task. How great would it be if there was a free online resource to view your competitor's ad banners online? Well... we have good news for you! There are number of tools you can use to view competitor ad banners online. We've highlighted one of our favorites below.
Moat.com
What is Moat?
Moat Ad Search is basically a search engine for online display ads. Moat makes it easy to find brands and to discover what banner ads they are running on top sites.
What are some benefits of Moat Ad Search?
Transparency - Ads are transient; viewable one second and gone the next. Moat Ad Search provides a single location to easily find ads running on the Web.
Media Insights - Whether you're an advertiser, a publisher or an agency, it's helpful to understand what ads are running where as you formulate your own campaigns.
Business Development - If your website is selling advertising, you need to know which advertisers are buying and where they are running
How are Moat Ad Search results compiled?
Moat Ad Search is a search engine that focuses on ads instead of other kinds of online content. Results are compiled using a web crawler that is specifically tuned to look for ads on the web and index them for later retrieval. Moat Ad Search is covered by the same fair use rights as search engines that index websites, videos, images and other types of content. Moat also accepts submissions from advertisers and agencies that wish to have their ads included.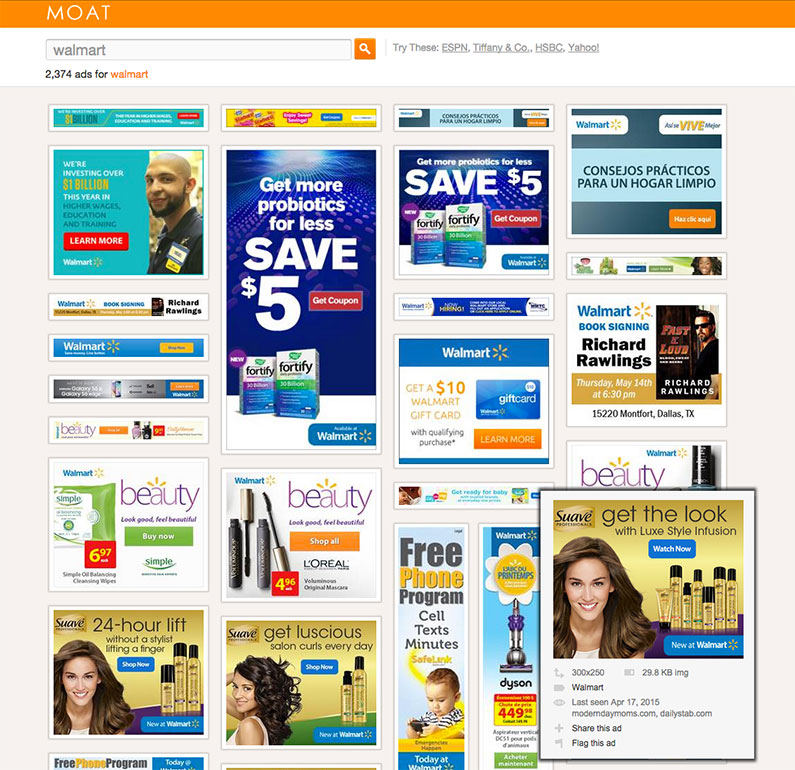 How does Snyder Group use Moat?
When developing programmatic media plans for clients, we will take a snap shot of where competitor ad banners are being displayed online so we can ensure the highest share of voice for our clients. Moat is also a helpful tool to gain visibility into a competitor's creative/campaign strategy. Moat Ad Search also supports several advanced search operators that can be added to a query to fine-tune the results. We will use these when targeting specific ad sizes or types You can read more about them on the Advanced Search Operators page.
If you're interested in help developing a winning strategy to beat your competitor's ads online, then we'd love to talk to you. Connect with us!