As with every other industry, travel and tourism has adopted social media for marketing campaign efforts, and for good reason. When people are looking to go on vacation, not only are they looking for the best deals and reviews, they are looking for a new experience. Social media is a great way to engage with the visitor before, during, and after their visit. Check out how different social media platforms can be used below.
1) Instagram
People like to see where they would be heading and Instagram is the perfect platform to display what your destination has to offer. Discover South Carolina hits the nail on the head with this one. Not only do they have a general "discover_sc" account, but they took advantage of the state's numerous parks and created an "scstateparks" account as well. By showing people countless photos of what the state has to offer in terms of beaches, events, parks, etc. they create the experience before the visitor even gets there.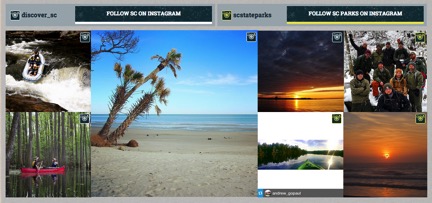 Visitors can also post photos of their trip by using popular hashtags associated with the destination. These photos can then be shared on the destination's main Instagram account. Going further, photo contests and giveaways are good ways to engage visitors and create a positive experience. For example, Discover South Carolina could hold an Instagram contest encouraging users to share their best scenery shots and the winner would win tickets to an event, restaurant, etc.
2) Facebook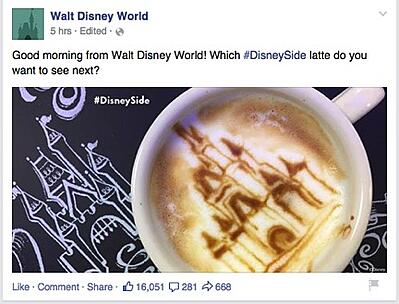 Facebook is a great platform to create a sense of community with the visitor. Walt Disney World Resorts is a prime example. The page is updated constantly with surveys, videos of rides, updates on new additions, and seasonal events. In addition to this, they pull content from their other social media sites to increase engagement. For example, they recently shared a post from their Pinterest account about 5 Reasons to Stay at Disney's Art of Animation Resort. They are constantly engaging potential and past visitors through their Facebook, which improves their overall brand perception.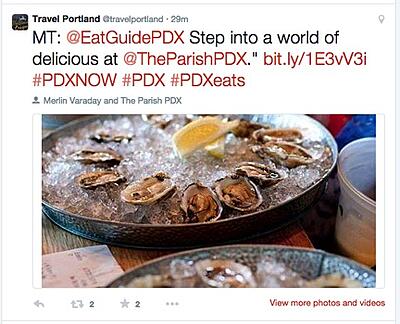 3) Twitter
Because tweets can only contain 140 characters, this platform has to be utilized in slightly different way. Travel Portland has excelled in this area, using this platform for customer service and timely offers. By promoting their signature hashtag #PDX, they can easily find users who have engaged with them. If visitors have questions or complaints, Travel Portland can use this opportunity to respond quickly and efficiently, while also gaining knowledge on what to improve on.
In addition to this, they promote daily offers on their Twitter account. These offers are timely, and because Twitter is more fast paced than other social media sites, it is a good site to promote them on.
---