Coco Chanel is quoted as saying, "The best things in life are free". That rings true for most people, especially those who like free stuff- and who doesn't like free stuff?! However, when companies hold sweepstakes and giveaways, they're doing more than just getting brand exposure for their free stuff. In fact, a social media sweepstakes can help your company's growth a lot. Three of the most pivotal ways sweeps can help boost your brand is by: increasing website traffic, growing database contacts, and ultimately creating loyal customers.
Increasing Website Traffic
Increasing website traffic is often easier said than done. However with a giveaway, the items your brand is giving away easily drive the viewers to your landing page. These rates can be easily tracked through your inbound platform, like HubSpot. Below we see a company that gave away a prize, with an MSRP of over $500. From August 2017 until the sweepstakes was complete, on November 1, the traffic was notably higher (approximately 6%) than that same time framethe previous year.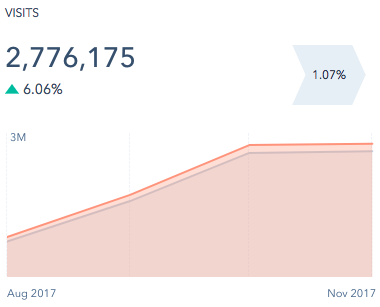 Growing Database Contacts
Growing database contacts seems like it would be harder than it actually is. You have already done half the work by driving your potential customer to the landing page, now what? You need to make sure you have written landing page copy that really speaks to the consumer. Are you answering the 5 W's and H? Have you told the customer why they NEED this product? Have you shown them why they should care? All of these, are important points that have to be conveyed to the customer in a concise, yet appealing, format. Once you have created that appeal to the customer, he or she is more likely to give you what you want (their contact information) in return for what they want (your free stuff)!
We can see from the same social media sweepstakes mentioned above, that in just those three shot months, they were able to capture over 31,000 unique entrants into the contest. (Please note: entrants are people who enter the contest. However, there was a sharing mechanism in place via Woobox that allowed the customer to share the sweeps, and for every share the customer received an additional five (5) entries. Ergo, the entries are higher than the entrants.)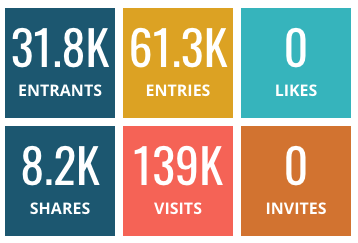 When synced into HubSpot, it was found that of those 31,800 entrants (about 27,984, or 88%, of those who entered) were NEW contacts, whose email the company previously did not have in their database.

Creating Loyal Customers
As with most sweepstakes, there can only be a limited number of "winners"— usually one. However, you should still reward the hundreds of others who entered your contest, to show them that they matter to your brand and that their loyalty is appreciated. This is easily done by sending out a follow-up email, after the winner has been contacted and announced.
This follow-up email should include a sincere thanks from the company for the patron taking the time to enter. In return for their time, the patron should receive some sort of incentive to continue following your brand, and even encourage shopping. We recommend anything from 15-25% off, depending on your company.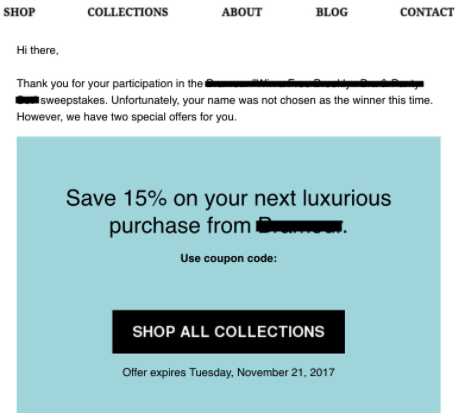 While sweepstakes are not synonymous with an increase in customer interaction; if executed correctly, a sweepstakes can boost your brand significantly. However, your sweepstakes is still limited in ability. And even though you may have gained over 12,000 new contacts, it is up to your company to nurture those contacts, and even customers, in order to keep them coming back for more.