Why Traditional Marketing No Longer Works for B2B Manufacturing Companies
Whoa, that seems like a brazen statement- and it is- but we're basing it off of truth…
The Evolving Consumer Buying Process: According to a survey about online shopping and purchasing habits, 96% of Americans are shopping online. The internet has not only allowed B2B buyers to access an unlimited number of resources to utilize in their research, but it has completely flipped the traditional method of sales upside down.
Traditional Marketing is Overtly Aggressive: Nobody likes receiving telemarketer calls, or being solicited to as they go about their day– and the same goes for B2B Manufacturers. More than 80% of shoppers/buyers do their research online before investing in a product/service [Lyfe Marketing]. When it comes to opportunities, customers want to find them on their own instead of being railroaded.
Lack of Transparency & Trackable ROI: Almost everyone's behavior is being tracked online. Keeping a close eye on your ROI allows you to make cost-effective marketing choices [Inman]. Also, by harnessing the power of big data, we can help you better reach your optimal B2B Manufacturing customer base.
What is Inbound Marketing?
Inbound marketing attracts customers through relevant and helpful content, adding value at every stage in your customer's buying journey. With successful inbound marketing, potential customers find your B2B manufacturing company through channels like blogs, search engines, and even social media.
Attract
You don't want just anyone coming to your website. You want B2B companies who are most likely to become B2B manufacturing leads and, ultimately, happy customers. You attract more of the right customers with relevant content at the right time… and when they're looking for it!
Convert
It's time to turn these website visitors into leads, or "a person who has in some way indicated interest in your manufacturing product or service". But how do we convert people? There are three main ways:
Landing Pages: Your landing page is where your visitor "lands" after clicking on a call to action. Your landing page should describe the offer, include a relevant picture, and talk about how the offer will benefit the visitor.
Calls-To-Action (CTA): On almost every page of your site, you want to have a call to action. These links or buttons encourage your visitor to do something– to download a whitepaper or SDS, sign up for a webinar, or join an email list. These CTAs can be general or personalized. Just keep in mind, personalized CTAs convert 202% better than general ones [HubSpot].
Forms: The form on your landing page is where the actual 'transaction' takes place. We'll be collecting information in order to follow up with the best contact person later on.
Close
"Always. Be. Closing." The closing stage is when your lead transforms into a customer. We focus on three methods of closing:
Lead Scoring: To help you measure how qualified your B2B leads are, you score them based on information they've provided in a form or from actions they've taken on the website.
Email Marketing: Follow-up emails are powerful tools for engaging your leads after they've filled out a form on your site.
Marketing Automation: Marketing automation nurtures leads by tailoring the marketing messages they receive to fit the particular actions they've taken on your site– you can also tailor messages according to what they manufacture.
Delight
Your next goal is to build loyalty so that your customer will want to continue doing business with you in the future. We've found the easiest ways to do this:
Surveys: Ask the consumer outright: What do you like? What can we change? What do you want to see in the future?
Follow-Up Emails: You're still creating and promoting great content– but now you have an advantage because you know what manufacturing fields they're interested in. Now, hone in on that more!
Social Media: Social media helps inbound marketing with content promotion. It helps attract new readers and returning visitors, which is a vital part to your inbound marketing strategy.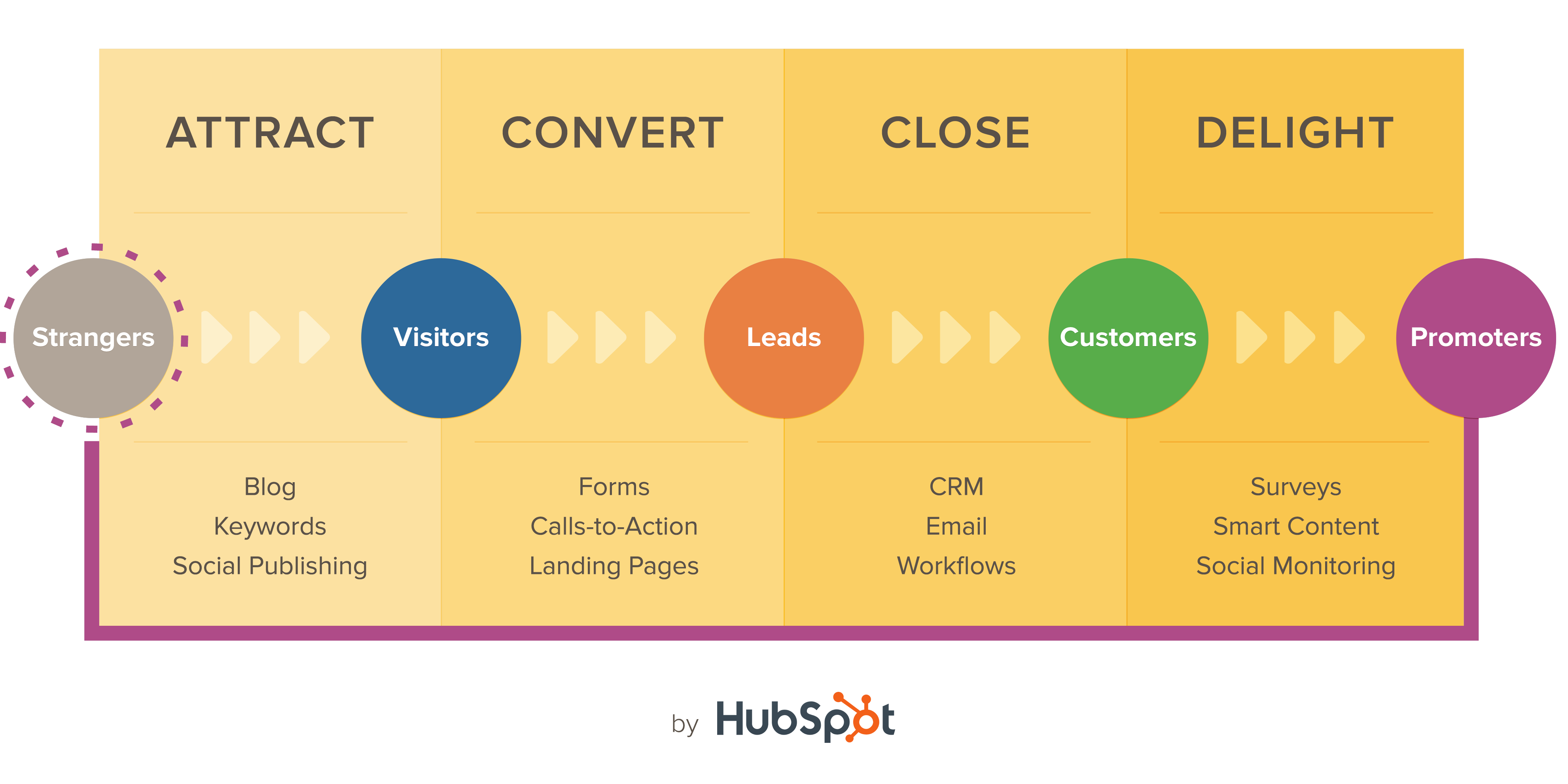 Essentials of B2B Manufacturer Inbound Marketing
Before we dive into the essentials of Inbound Marketing, we have to talk about your website. Your website is the most vital part of your B2B Manufacturing Inbound strategy. Your website is your 24/7 customer service and sales tool. It needs to be able to accommodate different thinking and learning styles (e.g. different consumers), while still presenting the information in an automated and easily-digestible format.
SEO
Search Engine Optimization (SEO) improves visibility in organic search results on search engines like Google, Bing, and Yahoo. A comprehensive SEO strategy will put your website in front of the right audience and generate more organic traffic and leads.
Blogging
Blogging can make the biggest impact in attracting visitors to your website. Blogging is especially important for B2B clients, as B2B marketers are 75% more likely to use blogs in their social media content [Impact]. Regular, relevant blogging that provides valuable content can improve your manufacturing company's visibility and can establish your credibility.
Video
Video is so important– but it needs to be eye-catching, engaging, and smart. According to OptiMonster, already 60% of both B2B and B2C marketers use video for marketing; and it's estimated that over 80% of consumer Internet traffic will be video traffic in the next two years.
Social Media
Social Media Marketing (SMM) leverages social media platforms like Facebook, Twitter and Instagram to connect and interact with your target audience, driving relevant social traffic to convert to contacts and leads. In fact, 94% of B2B marketers are actively using LinkedIn for marketing [Lyfe Marketing].
Email
Email & Marketing Automation is a fundamental tactic in lead nurturing. Automated workflows qualify, connect, and nurture the contacts in your database with uniquely targeted email aimed at converting those contacts into customers.
Sales & Marketing Alignment
Aligning your sales and marketing teams is a crucial part of your company's digital strategy. We work to synchronize goals and objectives, and create an environment that fosters efficient communication and shared responsibility for performance.