What started as an overnight phenomenon targeted towards Millennials, has turned into a marketing platform the likes of which the multimedia universe has never seen. I'm talking, of course, about Snapchat. According to Business of Apps, in August 2017 Snapchat had over 173 million users. The majority of these users are between the ages of 12-17 and 18-24 years old. And right in the middle of these two age ranges are the most active users: college-age individuals (17-22 years old). That being said, if you manage the marketing for any Higher Education Institution, you're missing a HUGE opportunity if your marketing team isn't using Snapchat! Here are five Colleges and Universities who are doing it right when it comes to the Snapchat universe…
Eastern Washington University (Cheney, Washington)
Username: EWUAthletics
Many school's athletic programs are using Snapchat to improve their recruitment efforts. Not only are they connecting with potential student athletes asking them to share their Snaps to communicate with them, but also as a way to keep an eye on how the student athletes are performing (on and off the fields).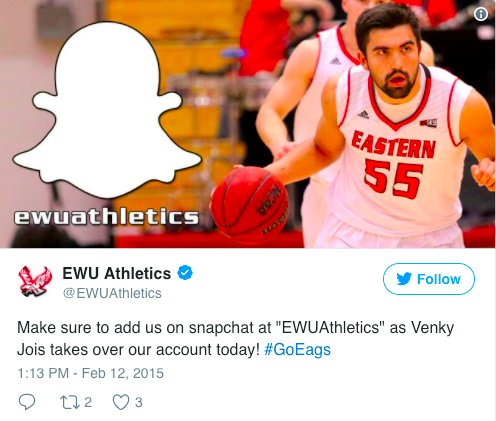 Photo courtesy of SproutSocial
University of Texas at Austin (Austin, Texas)
Username: UTAustinTX
UT is one of the lucky few schools who gets to use the "Our Campus Story" feature on Snapchat. When location settings are turned on, students are able to share their story with the UT student Snapchat population and share everything from class shenannigans to dorm story horrors with the click of a button. Similarly, UT also advertises their Snapchat use and encourages students to follow and interact with their Snapchat account.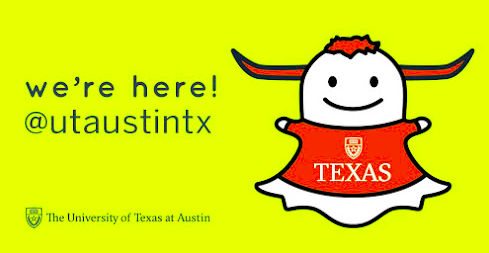 Photo courtesy of The University of Texas at Austin
University of Wisconsin Green Bay (Green Bay, Wisconsin)
Username: UWGreenBay
The University of Wisconsin Green Bay is taking on Snapchat head on- and is actually sending snaps to admitted students to let them know they are admitted! This is an opt-in situation, so the students must opt-in to the UW Snapchat terms before being eligible, but for the students that do opt-in, it's a very special moment. In retaliation, many incoming Freshman who have received the lucky "admitted" Snaps, have returned the favor by sending an "excited selfie" Snap back to UW.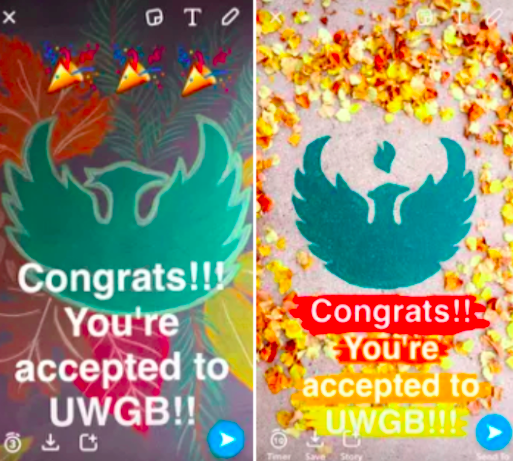 Photo courtesy of BuzzFeed News
University of Michigan (Ann Arbor, Michigan)
Username: UofMichigan
The University of Michigan has one of the oldest Snapchat accounts for an Higher Ed Institution, and they know how to leverage their reach. Several times a year, they host "#Selfie" contests, like the one they host during Freshman move-in weekend. In addition to encouraging students to Snap during sports events and other social gatherings, UofMich also hosts #Selfie contests during midterms and finals week.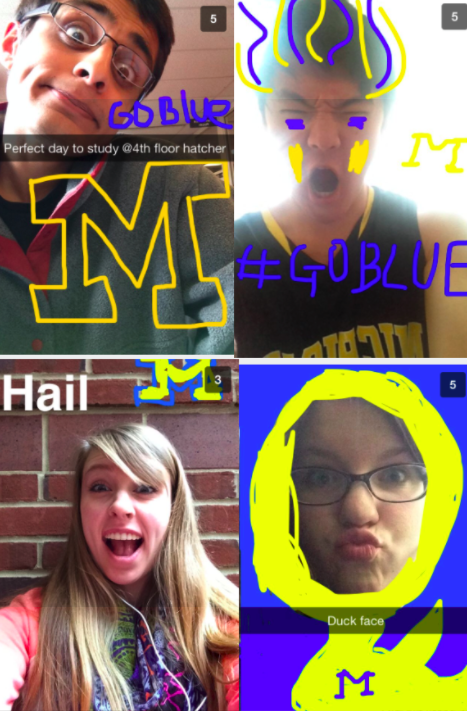 Photos courtesy of Social Media UMich
West Virginia University (Morgantown West Virginia)
Username: WVUSnap
West Virginia University is a brave frontrunner in the Snapchat game, because they have actually had "Takeover Tuesdays" in which select students takeover the University's Snapchat account and Snap for the entire day. Not only is this brazen of the school, but it gives a gritty view of a real student going through their daily routine on campus. These students were able to give an in-depth, behind-the-scenes look that most prospective students, and even some current students, may not get on a daily basis.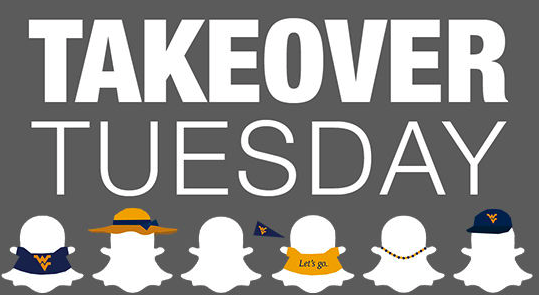 Photo courtesy of West Virginia University Social
So, whether it's to attract news students, or keep your current students involved, Snapchat is the way to go for Colleges and Universities looking to make a mark in the Digital Universe.