For many of us, (especially here at the Snyder Group) Thanksgiving is our favorite holiday. Time with family and friends, parades, football—and best of all—the food!
In case you're still looking for something to cook or bring to a gathering, we've put together a few of our favorite recipes (desserts, naturally).
Read on for some mouthwatering Thanksgiving dessert ideas.
Magnolia Banana Pudding
After a heavy turkey and stuffing meal, nothing goes down more easily than a light, creamy pudding. This banana pudding recipe is based on one from Magnolia Bakery. It is Charles' favorite, calling it, "The best thing I've ever had for dessert."
It's made with bananas, pudding, and vanilla wafers. His wife makes it whenever he can convince her to, and it has become a staple dessert in his house.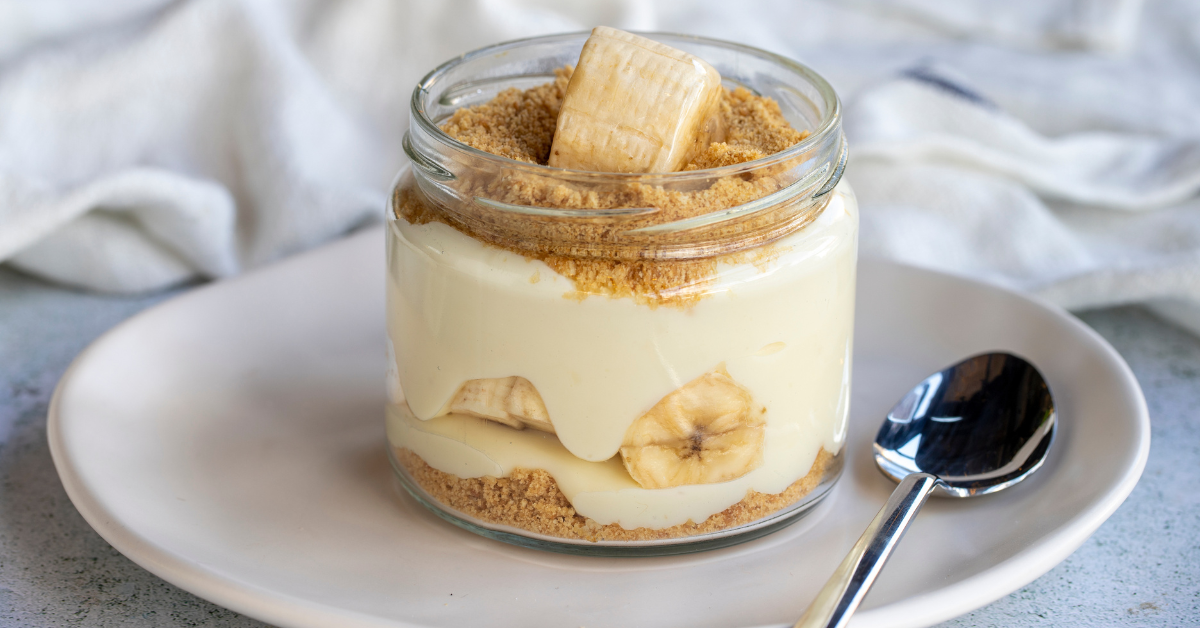 INGREDIENTS
1 (14oz) can of sweetened condensed milk
1 cup very cold milk
½ cup very cold water
1 ¾oz box of instant vanilla pudding
1 11-12 oz box vanilla wafers (save 5-6 wafers, plus crumbs from box)
3 cups heavy whipping cream
½ tsp clear vanilla flavoring
5 ripe bananas (just barely ripe) sliced
PREPARATION
Mix sweetened condensed milk, cold water, and cold milk
Add vanilla pudding mix and beat with a hand-held mixer or stand mixer for 2 minutes until the pudding starts to thicken
Cover and place in the fridge for at least 4 hours so the pudding sets completely
Use a hand or stand mixer to whip the heavy cream and vanilla flavoring
Beat until the cream is stiff
Gently fold the whipped cream into the fully set pudding until completely combined and uniform in color
Line the bottom of a large trifle bowl or wide glass bowl with ⅓ of the vanilla wafers
Layer 1 ½ cups of sliced bananas on top of the wafers
Top banana slices with ⅓ of the pudding mixture
Repeat until there are 3 layers
Crush the reserved 5 to 6 wafers. Sprinkle them on top of the final layer of pudding.
Cover with plastic wrap and refrigerate (at least 4 hours) until serving
Recipe thanks to: https://princesspinkygirl.com/copycat-magnolia-bakery-banana-pudding/
---
Spanish Flan
Sticking with creamy after-dinner treats, Alexandra's choice of favorite dessert is flan. The custardy, silky Mexican dessert is made with eggs, milk, and sugar. Alexandra notes, "To get the texture just right when baking, I recommend using the water bath method (similar to how you would with a cheesecake) rather than just placing it in the oven."
She also suggests using 1½ to 2 cups of sugar and warns that when cooking the sugar you have to be very careful not to burn it.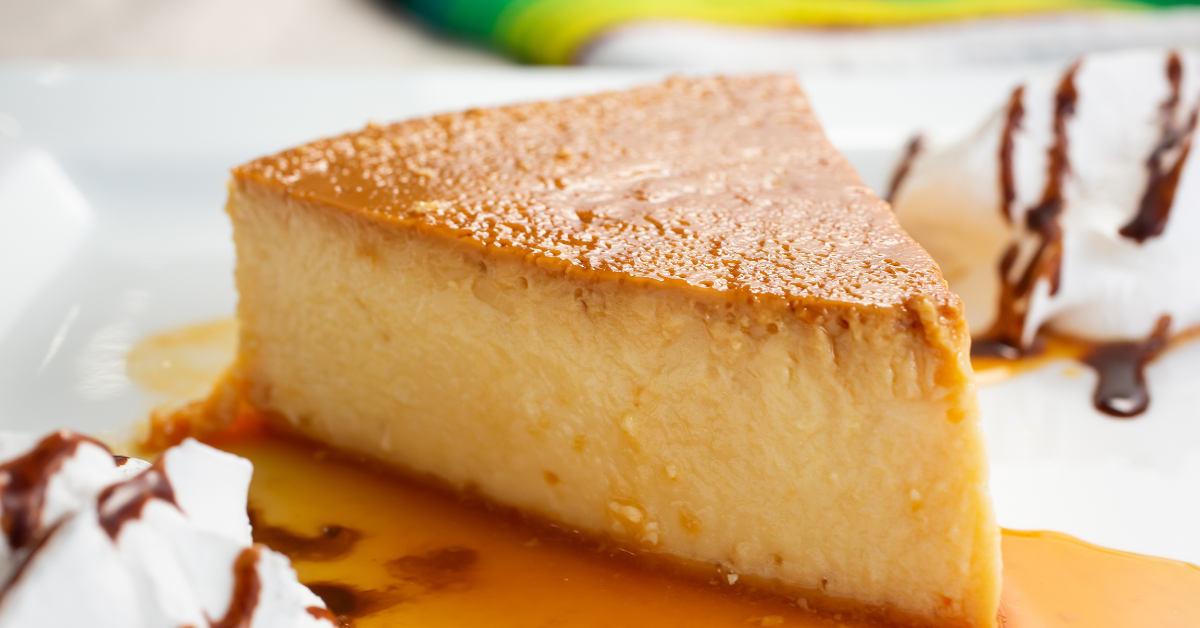 INGREDIENTS
1 cup white sugar
3 large eggs
1 (14oz) can of sweetened condensed milk
1 (12fl oz) can of evaporated milk
1 tbsp vanilla extract
PREPARATION
Preheat the oven to 350℉
Melt sugar in a medium saucepan over medium-low heat until liquefied and golden in color
Carefully pour hot syrup into a 9-inch round glass baking dish, turning the dish to evenly coat the bottom and sides; set aside
Beat eggs in a large bowl. Add condensed milk, evaporated milk, and vanilla; beat until smooth
Pour egg mixture into the baking dish; cover with aluminum foil
Bake in preheated oven for 1 hour
Let cool completely
To serve, carefully invert onto a rimmed serving plate; let caramel sauce flow over the flan
Recipe thanks to: https://www.allrecipes.com/recipe/20979/spanish-flan/
---
Lemon Tart
For Emily, a lemon dessert is a staple in her family on any occasion or holiday. This lemon tart has all the hallmarks of a great dessert, buttery dough with a creamy, sweet, and tart lemon filling.
Emily describes the lure of the lemon for her family, "There have been dessert competitions to see who can produce the most delicious lemon dish. Be it cakes, sorbet, ice cream, crumbles, pies, or squares. In my opinion, you can never go wrong with a simple lemon tart."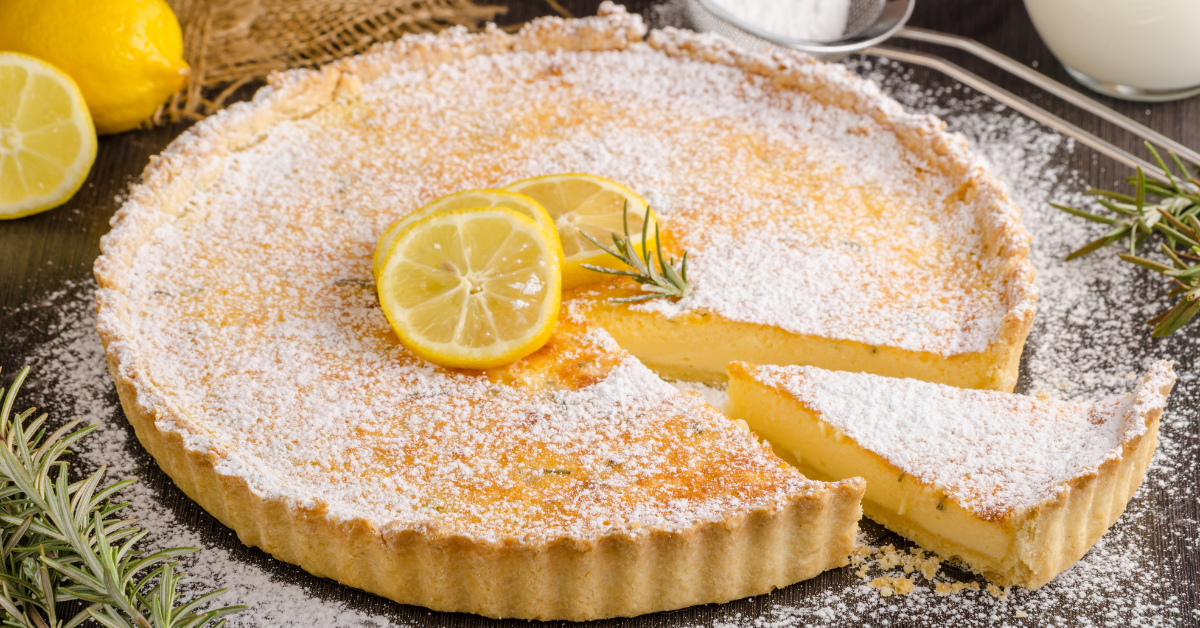 INGREDIENTS
⅔ cup sweet butter, softened, plus extra for greasing
3 eggs
¾ cup superfine sugar
The rind of 2 lemons, grated
Juice of ½ lemon, strained
11-ounce pie crust dough
All-purpose flour for dusting
Confectioner's sugar sifted for sprinkling on top
PREPARATION
Preheat oven to 350℉
Grease a tart pan with butter
Beat the eggs with the superfine sugar in a large bowl
Sir in the lemon rind and lemon juice
Sir in the butter
Roll out the dough into a round on a lightly floured counter and place it in the prepared tart pan
Trim the edges, then pour the lemon mixture into the tart shell
Bake for 30 minutes
When cool, sprinkle with confectioner's sugar
---
Strawberry Pie
Another fruit-based favorite comes from PJ whose discovery of this recipe several years ago resolved a problem.
"I once had way too many frozen strawberries in stock and had no idea what to do with them," says PJ. "When I found this recipe I made an excuse to do some pre-Thanksgiving dessert experimentation. Ended up being a delicious success!"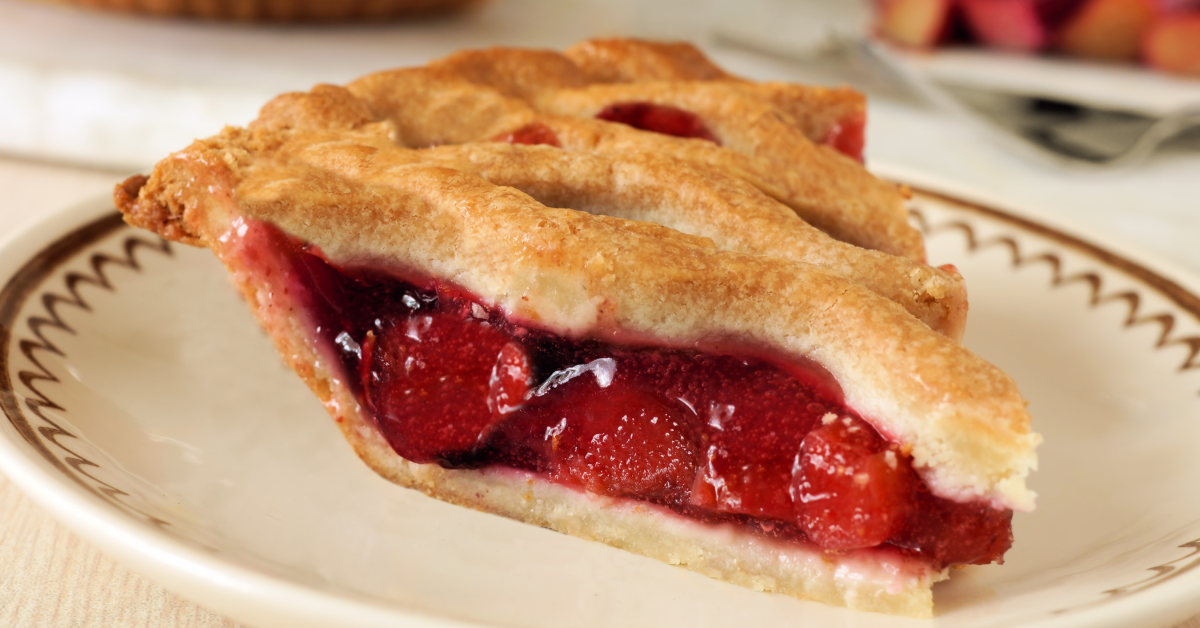 INGREDIENTS
6 cups frozen strawberries
1 cup granulated sugar
1½ tsp lemon juice
½ cup cornstarch
2 pie shells one for the bottom, and one for the lattice top
PREPARATION
Add the frozen strawberries and lemon juice to a medium saucepan
In a medium bowl, combine the sugar and cornstarch
Whisk together, then pour over the frozen strawberries
Let the strawberries cook covered on medium-low heat for 15 minutes until the strawberries are starting to get soft
Then, turn your heat up and let the strawberries get to boiling
Boil for 5 minutes stirring constantly and remove from heat
While your strawberries are cooling down, preheat your oven to

350℉

Pour the slightly cooled strawberry filling into your crust
Carefully weave the lattice top onto the pie, cutting off any excess
Bake for 35-40 minutes or until the lattice top starts to look golden brown
Make sure to rotate it halfway into the cooking time so it cooks evenly
Recipe thanks to: https://www.momwithcookies.com/strawberry-pie-with-frozen-strawberries/
---
Sweet Potato Crunch
Shane's favorite is a perfect Thanksgiving selection, with sweet potatoes being the centerpiece of this recipe.
He tells us, "Ever since I was a kid my mother has made this sweet potato crunch for us on Thanksgiving day. That tradition is why it's one of my favorite desserts. Every time I have it, I remember those good times when all the family comes together."
Shane especially likes the combination of the pie with the flaked coconut. He typically adds to the treat by eating it with a bit of whipped cream and a strawberry on top.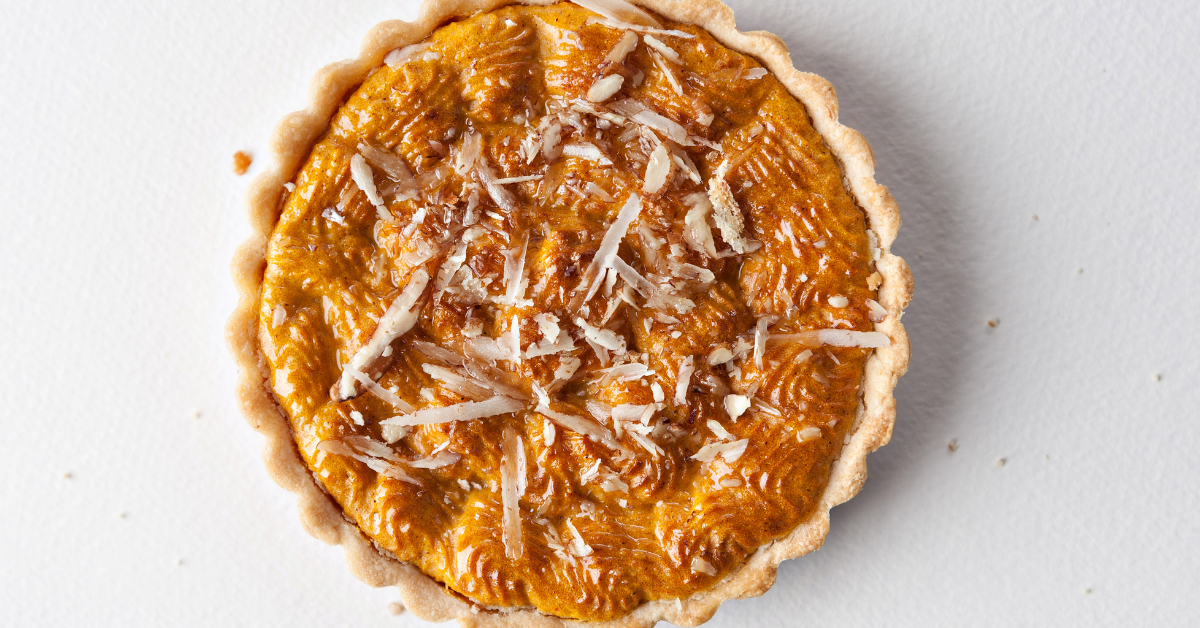 INGREDIENTS
Filling
6 sweet potatoes
⅓ cup butter
2 tbsp white sugar
½ cup milk
2 large eggs, beaten
1 tsp vanilla extract
Crunch Topping
¾ cup brown sugar
¾ cup sweetened flaked coconut
¾ cup chopped pecans
3 tbsp all-purpose flour
3 tbsp melted butter
PREPARATION
Place sweet potatoes into a large pot and cover with salted water; bring to a boil. Reduce heat to medium-low and simmer until tender, 20 to 30 minutes: drain and peel.
Preheat the oven to 325℉
Mash sweet potatoes, ⅓ cup butter, and white sugar together in a bowl. Beat milk, eggs, and vanilla into sweet potato mixture using an electric mixer until smooth; pour ½ of the mixture into a 9x13-inch casserole dish
Make the topping: Mix brown sugar, coconut, pecans, and flour together in a bowl; stir in 3 tbsp of melted butter until evenly coated
Sprinkle ½ of the topping over the sweet potato mixture in the baking dish
Pour the remaining sweet potato mixture over the topping and sprinkle with the remaining topping
Bake in the preheated oven until cooked through and the topping is lightly browned (about 1 hour)
Recipe thanks to: https://www.allrecipes.com/recipe/235663/sweet-potato-crunch/
---
Pecan Pie
Another nod to the more traditional Thanksgiving fare is David's choice, pecan pie. David said he fell in love with pecans when he was a kid. His family would drive from Cleveland to Florida each year, stopping at Stuckey's on the way where he always got one of their famous pecan log rolls. When he discovered pecan pie, well, he was stuck.
David emphasizes, "I love pies of all sorts but there is one pie that is a slice above all others: pecan pie. And don't be shy with the pecans."

INGREDIENTS
1 whole unbaked pie crust (I use "Sylvia's Perfect Pie Crust" recipe)
1 cup white sugar
3 tbsp brown sugar
½ tsp salt
1 cup corn syrup
¾ tsp vanilla
⅓ cup melted butter (salted)
3 whole eggs, beaten
1 cup (heaping) chopped pecans
PREPARATION
Preheat the oven to 350℉
Make or buy a pie crust
Mix the sugar, brown sugar, salt, corn syrup, butter, eggs, and vanilla together in a bowl
Pour the chopped pecans into the bottom of the unbaked pie shell
Pour the syrup mixture over the top
Cover top and crust gently with foil
Bake the pie for 30 minutes
Remove the foil, then continue baking for 20 minutes, or until set
Allow to cool for several hours or overnight
Recipe thanks to: https://www.thepioneerwoman.com/food-cooking/recipes/a9888/pecan-pie/
---
Dream Bars
What would any holiday dinner be without a little chocolate? In Carolyn's family, their tastes run toward chocolate. Her ideal dessert is aptly named, "Dream Bars." With a buttery graham cracker bottom, and a delicious combination of chocolate, nuts, and coconut, these bars are heavenly.
"While we do have the traditional Thanksgiving desserts on hand—apple and pumpkin pies—we always have to have a chocolate dessert as well," says Carolyn. "You can't get any dreamier than these."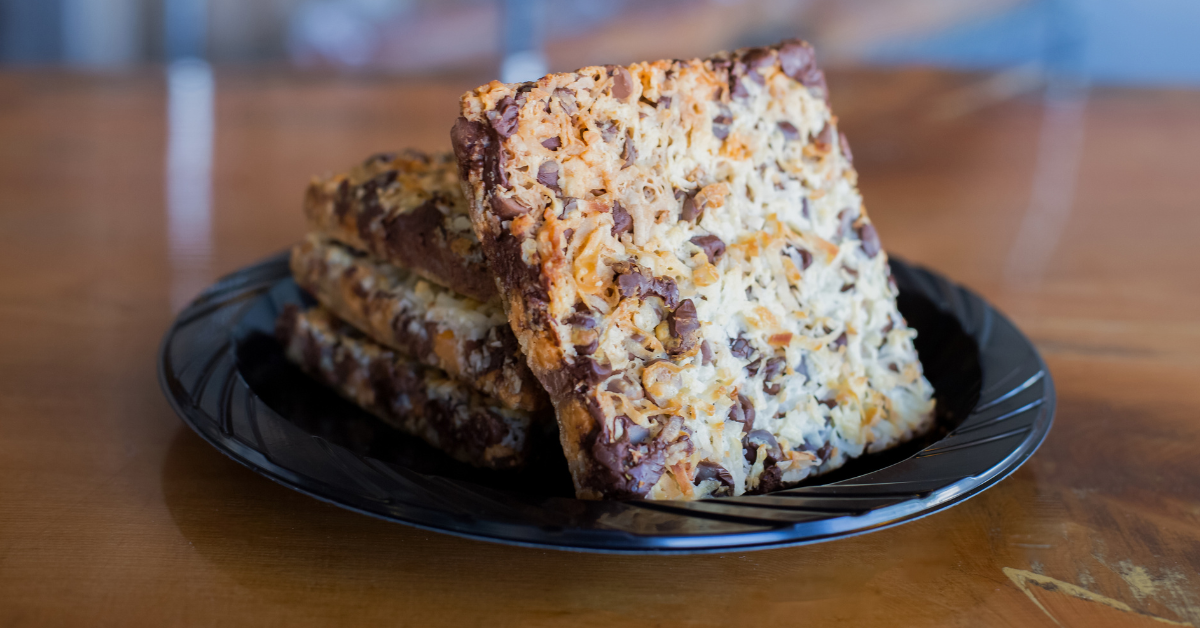 INGREDIENTS
Bottom Crust
3 cups graham cracker crumbs (from about 20 crackers)
¾ cup unsalted butter, melted
¼ tsp coarse salt
Topping
1 cup semisweet chocolate chips
2 cups sweetened flaked coconut
1 cup walnuts or pecans
1¾ cups plus 2 tbsp sweetened condensed milk
PREPARATION
Preheat oven to 350℉ degrees
Butter a 9-by-13-inch baking pan
Make the crust: In a medium bowl, mix together graham cracker crumbs, melted butter, and salt
Pour mixture into prepared pan and press into the bottom with fingertips
Sprinkle evenly over the crust the chocolate chips, nuts, and coconut
Pour condensed milk evenly over the top, covering the entire surface
Bake for 25 to 30 minutes
---
We hope that these recipes will inspire you to make something new and delicious this Thanksgiving (or any time of the year).