Lots of people use Facebook for personal reasons- whether it's to keep up with old friends, find out what's going in the town we live in, or stay on top of what's happening in our favorite clubs. However, Facebook is good for more than just personal entertainment- it is also an important social platform for B2B manufacturing companies.
The Appeal of Facebook
Although it may not seem like it, there are a lot of business decision makers on Facebook. According to the social media powerhouse, business decision makers spend more time on that social media platform than the average user. In fact, these business decision makers are spending about 74% more time perusing Facebook than the average user [Facebook].
Business decision makers aren't just on Facebook for social reasons. According to a Facebook survey, they are more likely to review businesses, follow companies, and share business content [Facebook].
Advertising on Facebook
Of course you can post content on your own company page. But Facebook advertising is a savvy way to reach a high volume of people, communicate with prospective clients, build leads, and possible gain some sales. This targeted advertising is helpful for B2B companies, because of the ability to engage with audiences targeted by geographic location, education level, job title, interests, and more.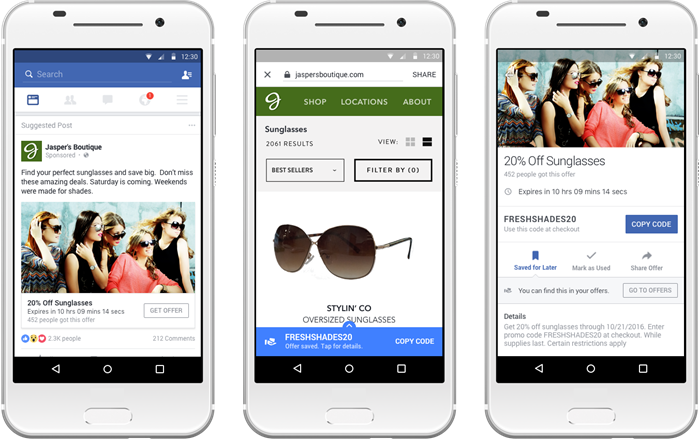 Photo courtesy of WordStream
If you've already completed your B2B manufacturing company's buyer persona, you can use that information to build your Facebook target audiences. In addition, those defined buyer personas can aid in helping your marketing and sales teams in understanding the type of content your ideal customer is looking for.
Just like you A/B test messaging and offers, make sure to test your audiences to find that perfect combination of people that will interact with your manufacturing company.
Prioritizing Your B2B Content for Facebook
Regardless of what your company does, the most important thing about posting B2B content on Facebook is to make sure it's valuable information that your audience is looking for.
By posting relevant, educational, non-promotional content to your audience, you will be ahead of many of your manufacturing competitors. In fact, only about 51% of manufacturing marketers regularly prioritize the audience's informational needs [Content Marketing Institute].
One way to prioritize your audience's needs is by showcasing your company's expertise in a manufacturing space. In other words, by showing thought leadership and industry trends within the company, builds company credibility and brand clout.
So as you can see, Facebook is no longer just used to keep track of what Grandma is doing in Vegas. Many B2B manufacturing companies use it to successfully engage with their target audience, reach out to their current clients, and even to gain sales.