Overview
Private Staff Group (PSG) is a bespoke recruitment talent consultancy for the world's most prominent and discerning individuals, families and businesses. PSG fills not only the required staff position but offers candidate job training and payroll options. The positions they fill range from estate managers and personal assistants to housekeepers.
The Challenge
When Snyder Group first partnered with PSG, the primary goal was to build the brand and increase awareness and traffic to the website. With a new name, logo design and social media channels Snyder Group implemented a conversion strategy with a goal to make a positive impression reach affluent clientele immediately. PSG easily recruited candidates for employment via the website (a necessary component of staffing), however attracting affluent individuals seeking to hire these candidates proved to be more difficult. Since high net worth families are PSG's key buyers, they needed targeted marketing a that would effectively attract this demographic quickly.
The Solution
Building a Brand that Resonates with an Affluent Audience
Delivering a new website design/build as the brand catalyst, Snyder Group successfully communicated a feel and tone to speak to an affluent marketplace. Images include luxury homes and estates. Content and tonality was also engaged to speak to affluent individuals looking for household staff.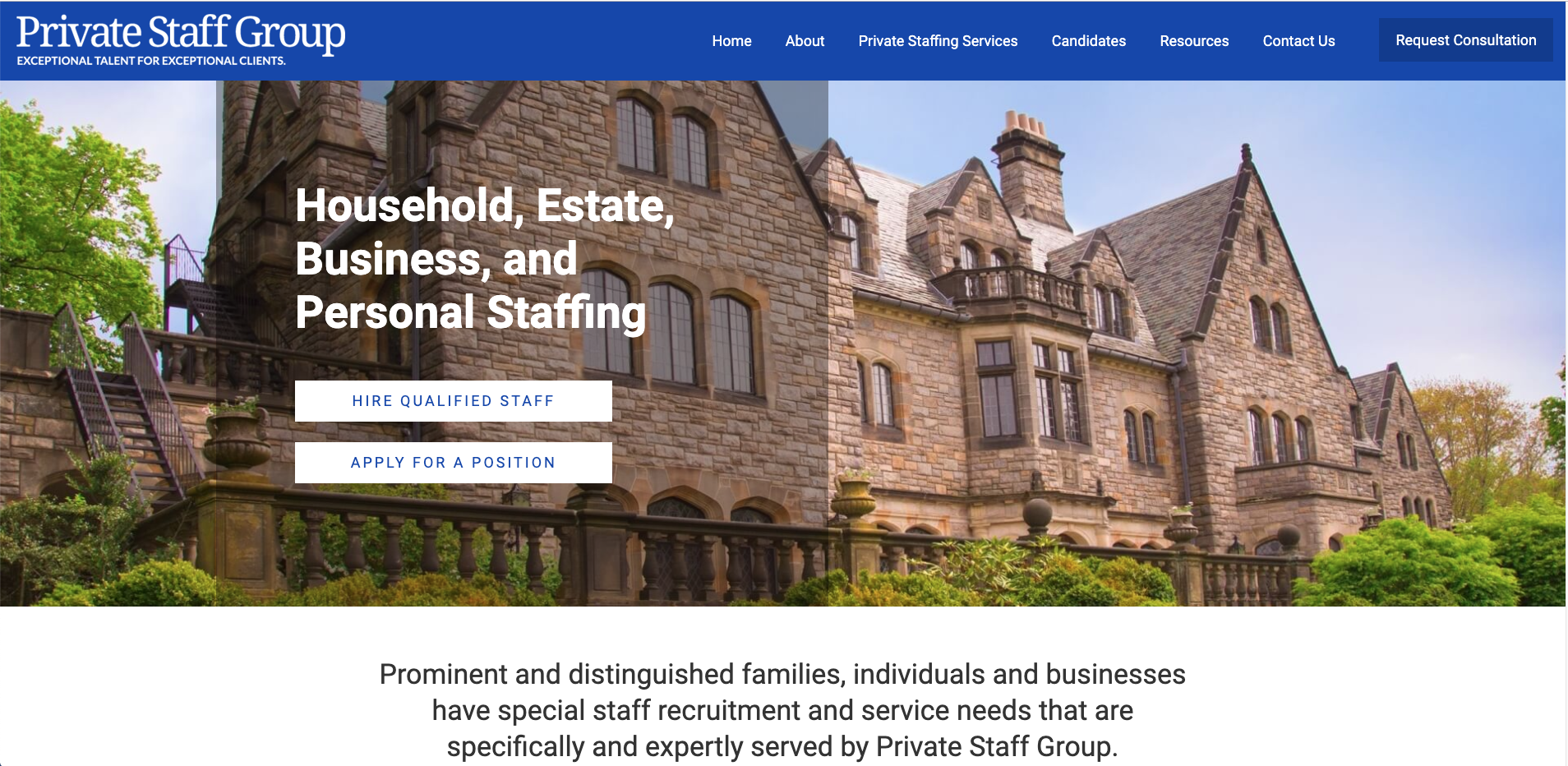 Attracting Buyer Personas
In mapping out the buyer journey for Private Staff Groups' target personas, Snyder Group determined that the primary pipeline was online. Like so many people today, this is where they are searching for solutions and information.
To attract potential PSG clients to their website there are two types of strategies we rely on, organic and paid. Organic traffic takes longer to build while paid media is immediate. PSG relied on both to grow the Private Staff Group brand.
Organic Content High Net Worth Individuals Are Seeking
To reach the client looking to hire a personal or household employee , our copy focuses on long-tail keywords that our persona is searching for such as, hire an estate manager or household staffing agencies. Each month we track about 50 long-tail keywords to see how PSG is ranking on Google, and adjust the website and blogging copy appropriately. The goal is to have a large number of keywords ranking on page one so PSG is more likely to get noticed.
Paid Media to Find Affluent Individuals for Private Staff Group
Organic traffic taking about 6-9 months to populate, Private Staff Group wanted to see results more quickly. Google Adwords turned out to be a great solution to target those specialty clients looking to hire household employees. Snyder Group set a target demographic in appropriate affluent areas around the country. For example, during the summer time many high-net worth families on the East Coast will be in CT or NYC. Very rarely will they be in Palm Beach. Another tactic was to set an income minimum. This removed both candidate traffic and people that wouldn't be the right fit, but might include personal assistants doing research on behalf of their employer.
Converting Visitors into Leads
To some, hiring a private or household employee may be new. These potential client personas may have looked at Private Staffing Group blogs and want more information. Understanding the kinds of information PSG's clients are looking for is key to bringing in leads. For example, most affluent individuals have valuables in their home and don't want to worry about them when bringing a new staff member into their household. Snyder Group created an ebook on everything concerning background checks and references to provide answers to their questions.
Results
Personal & Private Staffing Solutions Growing Fast
Snyder Group continues to work with Private Staff Group to implement marketing strategies and help them reach their core client demographic. Due to the surplus of candidates, we continue to focus on reaching high net worth and affluent individuals by targeting high income areas and setting income limits in our Adwords campaigns. In addition to Adwords we use LinkedIn to reach out to employers and post informative blogs that contain information on household and personal staffing solutions.
About Snyder Group
Snyder Group is an integrated digital marketing, advertising, and web development agency located in Norwalk, CT. Since 1995, Snyder Group has partnered with a wide variety of clients to execute on marketing that delivers measurable business results. We're especially good at developing full-funnel inbound marketing programs for organizations who are ready to embrace data driven marketing.