Overview
Advanced Specialty Care (ASC) is a multi-specialty medical practice providing care for patients in Fairfield County. ASC started as an Ear, Nose & Throat (ENT)/Head & Neck Surgery practice and has evolved to include Allergy and Asthama, Audiology and Hearing Aid Services, as well as aesthetic and skincare services via Cosmetic Surgery and Dermatology.
Campaign Performance
Organic Traffic 60% +
Online Patient Conversion Rate 62% +
Page 1 Search Rankings 540 +
The Challenge
When Snyder Group first partnered with ASC, the majority of their advertising and marketing was planned around traditional outbound strategies. There were two primary marketing and advertising goals that they required assistance with. ASC had recently expanded their practice by adding more locations in Fairfield County so it was crucial to raise awareness for added locations. The main objective, however, was to track their media performance and identify ways to leverage digital marketing through a more effective plan. With the correct marketing strategies in place, growing brand awareness would result in new patients-the overarching goal.
The Solution
Consolidating Marketing Messaging and Tools
Previously, Advanced Specialty Care's online presence was scattered among multiple websites, social media profiles, and business listings. With eight specialties and 20+ medical professionals, consolidation and maintenance of online data was an important first step. Snyder Group combined all the specialty practices into one website and its digital marketing into a single inbound platform (Hubspot) with a CMS (Wordpress) on the back end to manage it. This provided ASC with a way to efficiently publish and monitor the performance of marketing content across all channels. This consolidation also made cross-marketing strategies much more efficient.
Cleaning Up Hundreds of Online Directory Listings
Over time, ASC's multiple medical specialties and physicians had also accumulated hundreds of online directory listings (Yellow Pages, Google Business, etc.). Many of these were inconsistent with each other and contained outdated information. Using a directory listings management tool, Snyder Group was able to quickly identify and address these issues.
Results
Building Brand Awareness with Patients
A year into the ASC program, it was clear that the implemented digital marketing strategies increased traffic to the new ASC website, building a targeted database, and ultimately increasing new patient registration to the medical specialty practice. In fact, ASC continues to maintain 62 specialty focused keywords ranking in the top three Google searches. As of March 2019, ASC has 48 #1 ranked targeted key phrase results and over 540 page one search results on Google.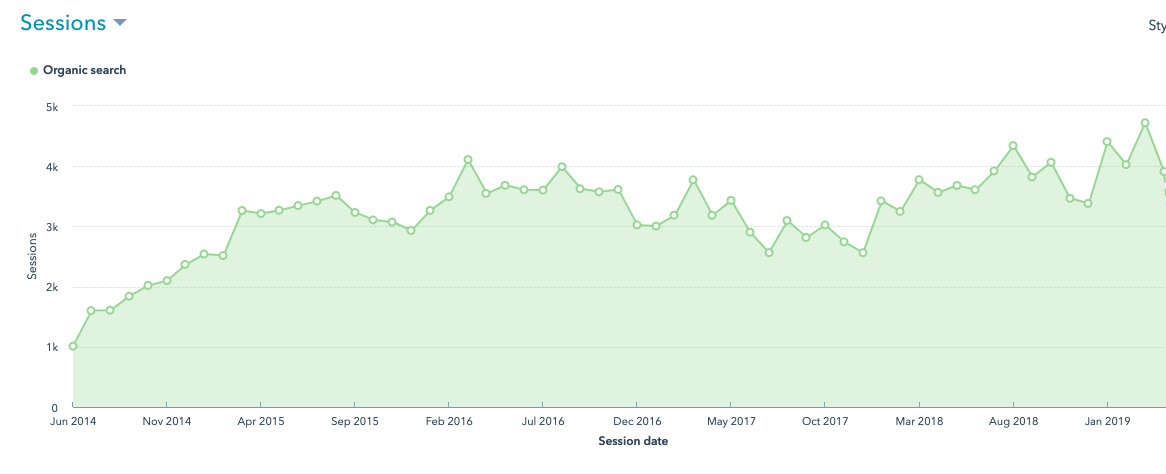 As a result of the persona targeted marketing efforts, ASC's organic traffic grew 60% from 2014 through 2018.
---
"ASC maintained an average of 62 specialty focused keywords ranking in the top three Google searches"
---
Digital Marketing Strategies for Medical Practices
Medical specialty practices, particularly when the treatments are elective, have a real opportunity to leverage database marketing by targeting middle-of-the-funnel prospective patients. Those are potential clients who have done a little research, but are not ready to commit and become a client. Snyder Group created medical specialty focused information e-books to gain email addresses for the ASC database.

Another opportunity for a medical specialty practice that offers multiple specialty treatments is the ability to cross-market/cross sell to the entire family of medical specialties. Snyder Group was able to leverage this opportunity through blog and email marketing strategies to the growing ASC opt-in database, as well as on-page calls-to-action for the specialty content offers.
HIPAA Complaint Tracking of New Patient Registrations and Patient Revenue
Due to HIPAA regulations, ASC could not integrate their patient database with HubSpot, making it difficult to track the complete patient journey from initial contact to patient registration. And while many patients submitted the request an appointment form online, some did not end up becoming patients for many reasons (health insurance, scheduling difficulties, etc.). Those that filled out an online request an appointment form, were considered qualified leads. To complete the process of tracking to a patient, these are matched with new patient spreadsheets that get manually uploaded to HubSpot. Only these contacts are considered patients.
ASC Medical Practice Marketing Growing Forward
Snyder Group continues to consult and implement marketing strategies as ASC grows its specialty medical practice. Current marketplace dynamics have us focusing more on location specific blogging strategies while increasing our blog cadence and cross-selling through a growing database.
About Snyder Group
Snyder Group is an integrated digital marketing, advertising, and web development agency located in Norwalk, CT. Since 1995, Snyder Group has partnered with a wide variety of clients to execute on marketing that delivers measurable business results. We're especially good at developing full-funnel inbound marketing programs for organizations who are ready to embrace data driven marketing.
About Hubspot
HubSpot is an all-in-one inbound marketing and sales software platform that helps companies attract visitors, convert leads, and close customers. Snyder Group has been an official Hubspot Partner Agency since 2013. Learn more about HubSpot.