As a B2B company, one of your primary organic focuses should be SEO (search engine optimization). Becoming visible on search engines such as Google, Bing, or Yahoo, will help increase your organic effort. When a company has a good SEO strategy in place, their ability to obtain qualified leads increases. Lead generation and SEO are the primary drivers for new customers for B2B companies.
The Marketing Funnel and Lead Generation for B2B Companies
The marketing funnel refers to where the client or customer is in the buying cycle. Not everyone is ready to make a purchase, they are looking for information to move them to the next step in the funnel. All of the content created on every page should nurture each stage of the funnel. By doing so, your ability to generate leads should increase.

Every part of the funnel works together to grab the attention and eventually convert a lead into a long lasting customer. It is important that a brand has each part of the marketing funnel fully represented throughout their site. Not everyone that comes to your website is ready to convert into a customer. So, it is important that you still try and grab their attention in preparation for when they are ready to close the loop. Using the marketing funnel in your content strategy will allow you to increase your lead generation and convert leads into customers.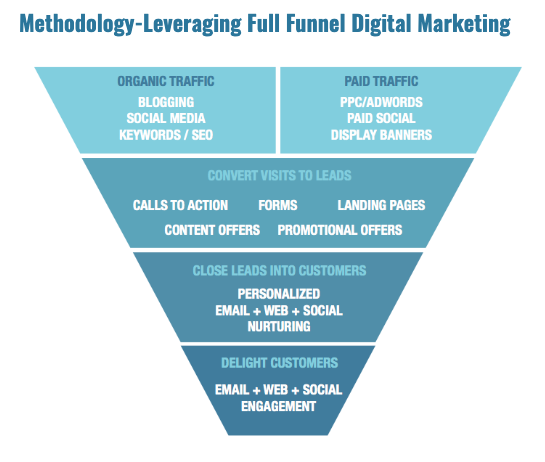 Top of the Funnel
The top of the funnel (ToFu) signifies awareness. This is a customer looking for information to help push them towards a decision. They are not ready to make a conversion yet, but they are beginning their journey to do so. Social media, blog posts, photos, etc. are all content related to the ToFu. Here, visitors are not yet ready to submit a form, or convert into a customer, they are simply looking for information. At this stage, it is important that your company is seen and recognized. Your SEO ranking, and other inbound strategies, can help accomplish that. Keywords and optimization help your brand appear in the search engines, build your SEO ranking, and help you to gain an audience on social media.
Middle of the Funnel
The middle of the funnel (MoFu) refers to capturing contact information and nurturing them in order to push them to the bottom of the funnel. MoFu content includes ebooks, downloads, webinars, etc. Basically anything that provides educational information to visitors that helps to support your MoFu efforts.

You want to build a relationship with these people. Including a form, or a way to capture the lead and their information, will allow you to place this user into a workflow, which can help build and nurture the relationship. You may want to send them additional blogs or collateral content that they may be interested in. By doing so, you are nurturing this lead until they are ready to get to the bottom of the funnel.
Bottom of the Funnel
The bottom of the funnel (BoFu) is where we aim to push the majority, if not all visitors. The bottom of the funnel refers to making a conversion. This is where a lead becomes a customer. If a potential customer reaches the BoFu, it is not only important to convert this customer, but continue to nurture this relationship and keep them as a customer.
Qualified Leads and SEO
The biggest contributors to new customers are lead generation and SEO. With this strategy, start with your company's SEO strategies. These strategies require constant updates. But with the right strategies, you will have a higher chance of earning a qualified lead.
Keywords
You want to select targeted keywords that are not too difficult to rank for and will reach your persona. For example, if you are trying to rank for a specific degree at a local community college, 'computer science' is too general and would be hard to rank for. Choosing something more specific, like 'community college computer science degree', removes all of the unwanted traffic and narrows down to the ideal persona. These longtail keywords help to position your brand in the right space in search engines.
Optimize Content Pages
Once you have your list of longtail keywords, the next step is to optimize content pages. This could consist of landing pages, website pages, or blog pages. Using these keywords, both consistently and in the right context, will help Google, and other search engines, pick up your website and push your content up in page ranks. Each page should always have a meta description and an SEO title and images should have alt text and file names that include keywords.

If you are unsure about how to optimize and improve blogs, doing a quick Google search could help. Search the blog or page title to see what is currently ranking for that topic. If your blog title is "3 Benefits of a Community College" and you notice that no one with less than 10 benefits are ranking, you may want to include additional benefits to position your brand amongst competitors. If you clean-up and optimize pages, you will target specific customers with the right intent. Once you move up the ranks in search engines for longtail keywords you will reach potential leads that are actively looking for information or brands in your field.

By combining these SEO strategies you target qualified leads that are more likely to convert into a customer.