Due to COVID-19, the economy has taken a downturn and people's pockets aren't as deep, so now is not the best time to spend advertising dollars on pushing products. However, with social distancing, people are spending more time on devices, providing increased opportunity for reach. So how do you advertise? Brand building is one of the best ways and we've seen a lot of that during the era of COVID. Below are some of our favorites.
Coca-Cola
This Coca-Cola ad resonated with us because it does not overtly seem like an ad. We don't even see their name until the very end of the video. It's a feel good piece that doesn't feel like an advertisement, and at the end they incorporate a metaphor thanking people for filling the glass with kindness and hope, which is clearly a play on their product but artfully done.
Coca-Cola is a company not without controversy. In recent years, their ads have geared more toward social aspects such as sharing, which has helped offset some of their less positive press. The company wants people to have a positive image when people think Coca-Cola. This video focuses on positivity and brand-building.
Apple
Apple's marketing almost always stands out. On March 10, 2020, Apple released a 5-hour video taken on an iPhone 11 at Russia's Hermitage Museum. Although it is hard to say whether or not this was in response to coronavirus, it does seem timely, as travel had begun to slow down by that time. Apple's Shot on iPhone ads have always enticed their audience. They are minimalist and mysterious, while showcasing their product's strengths. For example, the Hermitage ad promoted not only the camera quality of the iPhone 11, but also its extensive battery life. This allowed for an ad that again was not overtly an ad—the product speaks for itself while the viewer is taken on an immersive experience.
Uber
With consistent messaging, this video would likely have contributed to a successful campaign. The concept of thanking users for not using Uber during this time is fascinating and thoughtful and shows support for the community at large. However, their COVID-19 response was not well received due to how they treated their drivers. They were left without work and ineligible for unemployment, and the company did little to help them. Therefore, this video was looked at as hypocritical and insincere. If they had walked the walk instead of only talked the talk, more like Patagonia, as we see below, it likely would have performed much better.
Patagonia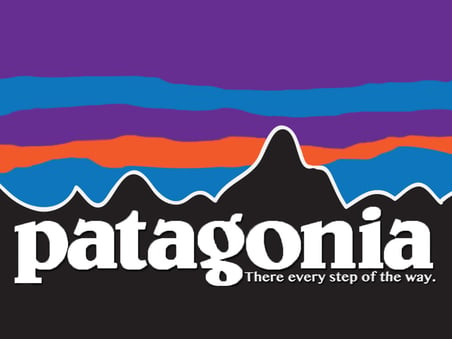 https://www.nytimes.com/2020/05/12/business/patagonia-reopening-coronavirus.html
The hallmark of Patagonia's advertising strategy is that it is subtle. Their Instagram rarely overtly advertises products. Similar to Apple, their advertising tells a story and incorporates product demos. Patagonia's response to COVID was quiet but generated a lot of positive talk. In mid-March, Patagonia shut down their stores nationwide in addition to their website, while continuing to pay their workers in full. This was undoubtedly a financially difficult decision, as it would be for any company, but it certainly helped them in several ways. It emphasized a strong stance in support of its workers as well as the community at large, which is consistent with their brand image. Patagonia has long been a brand known for being socially conscious—for example, they take old, worn Patagonia clothing items and repair them for free, highlighting their commitment to quality and sustainability. Although Patagonia certainly took a financial hit in the short-term, their marketing and policies during this time strengthened brand trust and loyalty. Patagonia has long differentiated itself through its commitment to service and the environment, and its COVID-19 response shows it clearly continues to do so.
Nike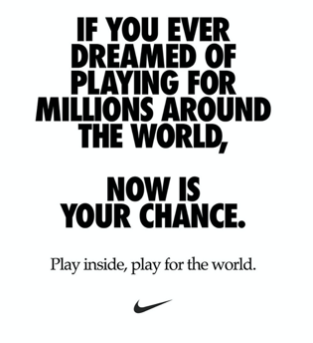 Nike's advertising was incredibly simple yet stood out. It wasn't another "we're all in this together" pandemic advertisement. Nike is another company not without controversy. Issues of the use of child labor have hurt Nike's brand image tremendously, but their advertising team has done a great job offsetting negative events with stellar ads that have helped their brand image. COVID-19 resulted in the premature end to many sports seasons, which this ad is certainly playing off of. It is directly targeted to the reader, emphasizing the role that everyone can play during this time. The ad highlights the importance of teamwork and creates a sense of camaraderie and community. For example, in the caption of this photo, Nike employs the use of hashtags to get others involved. This ad is a fantastic example of brand building in a positive way that will help NIke's visibility and long-term loyalty.
As the COVID-19 pandemic goes on, marketing will continue to adapt. It is of utmost importance for companies to address the elephant in the room and continue to be thoughtful with their marketing campaigns. Showing empathy is paramount, and focusing on brand awareness rather than pushing products is a tactful strategy.