Last week, we talked about how increased access to WiFi with initiatives like LinkNYC is changing the game for digital marketers. This week it's time to turn our attention to a mobile game available on Android and iOS that has become more successful than Candy Crush, and the way that THAT will be--and in fact already is--a game changer for marketing especially when you're wondering how to advertise locally. It's name: Pokémon GO. It's been released for just over two weeks now, and it doesn't look like Pokémon GO is GO-ing anywhere.
The mobile game is based off the 21-year-old Pokémon Company franchise that developed Nintendo GameBoy games, a TV series, trading cards, the whole nine-yards. The objective is to catch, train, and battle other Pokémon by moving about through the real world as Pokémon pop up on your screen. In addition, players must physically travel to landmarked locations called "Gym's" and "Pokéstop's" in order to battle and collect in-game goods.
I downloaded the game during the first weekend it was released without a clue as to how much popularity it had already garnered. A couple of friends and I decided to go Pokémon hunting that Saturday, and I was amazed at the types of social interaction it amassed. Barely five minutes into our hunt, we passed by a couple playing together, walking to the same Pokéstop we had just come from. Shortly after, two grown men yelled from their car that there was a Venonat one block further, and sure enough, all three of us caught that Venonat. The rest of our day consisted of walking and driving around to various Pokéstops, collecting Pokémon, incubating eggs, meeting people, and finally making it to level 5 so we could go to the gym, join Team Valor, and battle other Pokémon. What this game forces its players to do, above all else, is move around, primarily by foot, and gather in groups.
You may still be wondering why this flashback Japanese franchise is relevant to your local marketing strategy, but here are four ways to advertise locally with Pokémon GO:
1. Offer free WiFi
Here's the bottom line, folks: people are playing Pokémon GO. People are playing it whether or not they're using up their data plan; HOWEVER, if you're offering free WiFi at your local coffee shop, restaurant, mall, retail store, etc. people will be more attracted to your business by nature of lowering their phone bills. Take T-Mobile's quick response in strategy as an example: they are offering unlimited data just for Pokémon Go. This means you can play for as long as you want and never have to worry about the cost (except the cost on your battery life!).
2. Lure Modules
What's a lure module? Remember that Pokéstop I mentioned on my first day Pokémon hunting? Pokéstops are places in real life that players have to physically travel to in order to collect in-game goods such as Pokéballs to catch the Pokémon, healing potions, eggs to then walk around and hatch. If you have a business that is lucky enough to be located near a Pokéstop, like this Carvel in Norwalk, CT, you are at an advantage.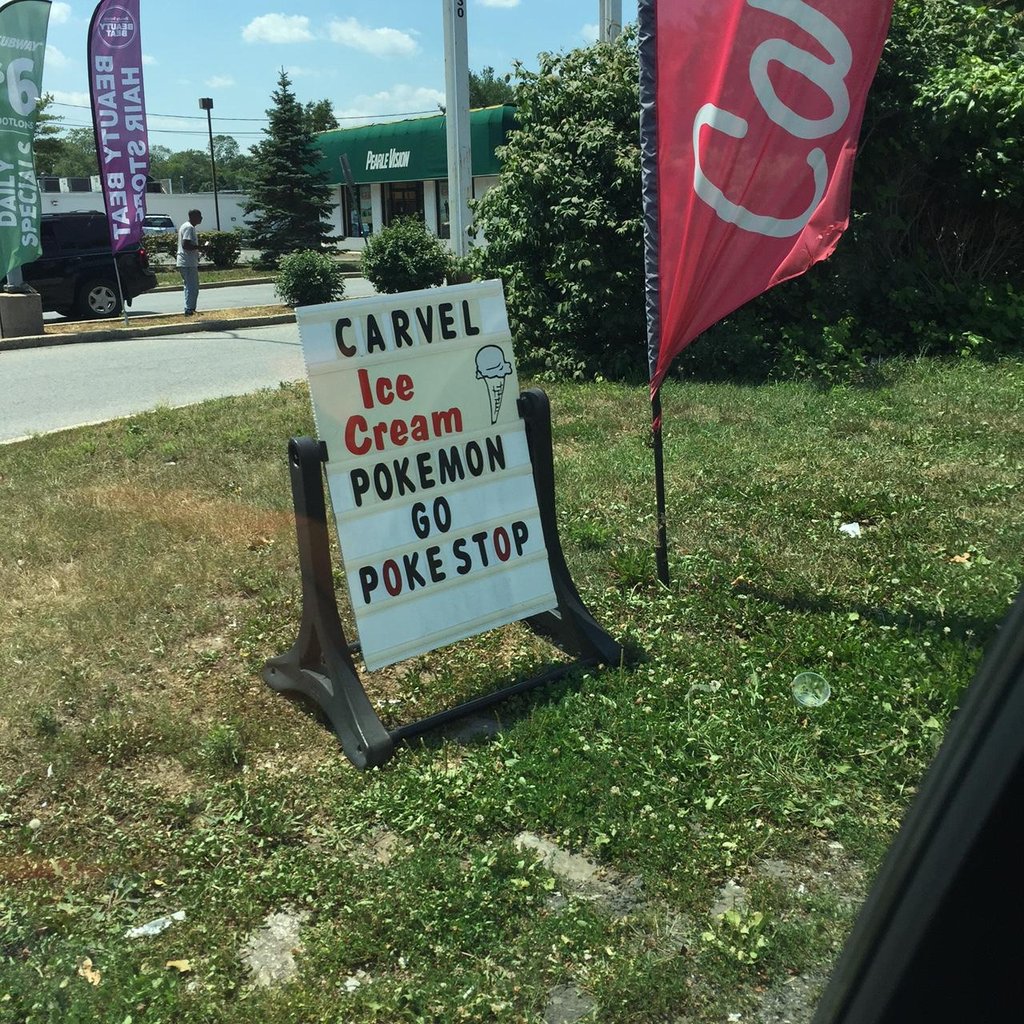 You can use lure modules to attract rare Pokémon, thereby attracting people, to your business's physical location for 30 minutes at a time. It even seems to be working for Hillary Clinton's capaign! If you haven't collected enough Lure Modules, don't fret; the game comes with in-app purchasing capabilities, and here's how the pricing works:
8 lure modules are only 680 Pok

é

coins, and only 1 module is 100

Pok

é

coins

It costs 99¢ for 100 Pokécoins
$4.99 for 550
$9.99 for 1,200
$19.99 for 2,500
$39.99 for 5,200
$99.99 for 14,500
Hesitant? Try it out for a day and buy $10 worth of Pokécoins. This gets you 13 Lure Modules (lasting 6.5 hours) and watch as people flock to your location. It sure is cheaper than paying that guy $10/hr to dress up and spin a sign on high-traffic cross-streets to promote your business's location!

3. Social Media:
If you still haven't instituted a social media marketing strategy, then now is definitely a time to hatch a plan. Social media got these massive numbers out to Central Park at 11pm when a Vaporeon monster showed up.
Imagine if you set a lure module at your business and had a rare Pokémon come in to visit. The great part about the app is that it comes with an in-app camera to take photos of your Pokémon in the midst of catching them. Set that up in front of your logo or storefront, snap a pic, and post it to any of your social media accounts, and man, talk about a crowd…
4. Apply to sponsor a Pokéstop or Gym
The last three ideas are all viable options that can be implemented immediately. This one, however, is still in the works according to Fortune--think CPC meets real-world cost per visitor. If your business wasn't lucky enough to be a Pokéstop, Gym, or have one nearby, then sponsoring a Pokéstop may be your next best option. In fact, sponsoring a Gym would actually be your very best option. Why? As mentioned before, a Pokéstop is a historical, famous, or otherwise relatively interesting (based on where you are) landmark that players visit to collect in-game goods. The collection process happens in a split second and players quickly move on to catch more Pokémon. A Gym, on the other hand, is the location where high level players meet up to battle each other, or train one another if they're on the same team. This means that more people will be present and it is slightly more time consuming than just collecting goods; therefore, players have to remain in the geographic location (ie. YOUR BUSINESS) for a longer period of time. Do I hear sales? Yup.
The biggest takeaway here is that even if the fad behind Pokémon GO dies out, the technology is only the beginning. The use of geomapping technology in augmented-reality-type games will only be perfected as developers model new mobile games and applications from the legacy that Pokémon GO is already leaving. Take the safe advice and hop onto the fad while it's still generating a lot of foot traffic, and the next time a mobile game is released with this type of technology, be sure to consider all your opportunities for local advertising.