With nearly 600 million users, LinkedIn has dominated the professional world in recent years as a business-focused content marketing platform. Connections on the platform, both first-person and your connections' network, are important. However, the real power of LinkedIn for the manufacturing industry is the ability to tap into existing connections and grow your brand's reach through word-of-mouth. It's also the top-rated social network for lead generation.
LinkedIn is the perfect social platform to tout your manufacturing company's leadership, share the latest news and get reputable recommendations from others. If your LinkedIn strategy is limited to a sporadically updated personal page — it's time to up your LinkedIn marketing game. To do so, here are three ways you can optimize LinkedIn for your manufacturing company
1) LinkedIn Profile Optimization for Manufacturing Professionals
LinkedIn profile optimization means making sure your profile is fully updated to maximize your visibility within the manufacturing industry. At a basic level, this involves, a professional headshot, detailed content in every section of your LinkedIn profile, and establishing your credibility as a thought-leader through posts on the platform.
Key Tips:
Profile Pictures must be high-quality, professional headshots at minimum 200 x 200 pixels.

Customize your profile URL by using your full name. This will allow other manufacturing professionals to easily search for and connect with you.

The headline is the MOST important part of a LinkedIn profile. Utilize this space as a lead-in for prospective business. This should entice visitors to connect with you!



Use the work experience area to describe the results you've generated, your key responsibilities, and the industries/customers you've worked with. Remember to also add any relevant media like blog posts or case studies to showcase the work you are referencing.

2) Creating a LinkedIn Company Page


Similar to a LinkedIn profile, the company page is a great way for your company to establish industry expertise. Like the personal profile, the company page includes cover photo, profile picture, About Us section, and Company details. On the Company Page, provide your manufacturing company's details using several drop-down menus that include your industry, company size etc.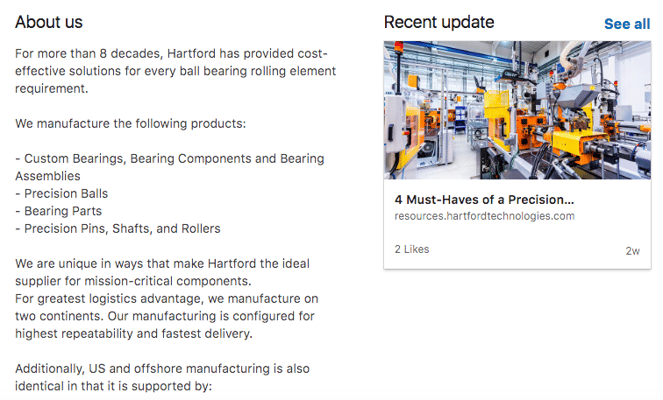 Key Tips:
Company Pages are SEO-friendly! The Company page description should lead with keyword-heavy copy because LinkedIn users can search for companies by keyword.

Engage with the audience - by asking what matters to them most, or what they'd like to see more, or what they love about the company's products.
3) Join LinkedIn Manufacturing Groups



Once your professional LinkedIn page and company page are refined, it's time to join LinkedIn groups. There are a number of manufacturing-centric groups on LinkedIn. This is where you can personally share your expertise by answering questions. Doing so, you're not only helping your personal brand, but improving the image of your company by showing that your company employs knowledgeable people. Additionally, you can utilize these manufacturing LinkedIn groups to attract top talent as LinkedIn is often the first place top-tier talent looks for employment.

For more tips, check out our 2018 Guide to Using LinkedIn for Manufacturing Professionals: